Melissa McCarthy. Who knows which way a film with her name on it will go. You always get a sense of what you're going to get, but you can never quite trust whether the overall product will be any good. For every Bridesmaids, there's an Identity Thief. For every Spy, there's a Tammy.  One would hope that The Boss would find a place among her better work, but early signs weren't positive. McCarthy's husband Ben Falcone directs and co-writes (with McCarthy), after his less than successful debut with Tammy. Kristen Bell co-stars, and if there's anyone who matches McCarthy in the "will-it-or-won't-it-be-good" stakes, it's her. (For every Veronica Mars there's a When in Rome, for every Frozen there's a You Again, for every adorable reaction to a sloth there's a role in Movie 43). Then there was the trailer which involved McCarthy working Bell's bra like a puppet master. Expectations were not high.
McCarthy is Michelle Darnell, the 47th richest woman in America. After being jailed for insider training, she returns to the real world with nowhere to go but her ex-assistant Claire's doorstep. Claire (Kristen Bell) begrudgingly lets her stay with her and her daughter Rachel (Ella Anderson) until Michelle can get back on her feet. Inspired by Claire's magnificent brownies, Michelle soon has her next money-making scheme. With Claire and Rachel's support she poaches girls from Rachel's Dandelions group, and soon has them selling Claire's brownies all around town. Getting in the way of her success is ex-boyfriend and professional nemesis Renault (Peter Dinklage), who has his sights firmly set on taking her down.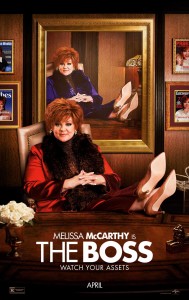 The plot is mediocre at best, and it almost seems like the entire brownie selling scheme was created for the purpose of having an outrageous street fight between the two opposing girl groups. It's a scene which is refreshing in its novelty, but cringeworthy nonetheless. McCarthy's physical comedy is no doubt the best entertainment – her experience with a sofa bed is especially amusing – while the dialogue is hit and miss. Her threats to a prissy mother are good value, until she takes aim at the woman's daughter by suggesting she's a lesbian. Because somehow that's the worst insult a girl can get. It's a poor effort at humour.
For the most part The Boss is simply not funny. And the plotting only gets worse. After Michelle lays out a plan to steal a contract from Renault's office, Claire points out that surely he would have made multiple copies. Michelle tells her that no, Renault doesn't trust computers! Problem solved! This is almost as bad as the iPad situation in Sex Tape. In the film's defence, it doesn't pander to gender stereotypes – like in Spy, McCarthy's character does not hold back on the swearing front, and the girls are more than capable of whooping ass. Unfortunately, this is not enough to make up for a bland storyline and a lazy follow through. This is yet another McCarthy flop. Fingers and toes remain crossed for the all-female Ghostbusters.
The Boss is in cinemas from 14th April through Universal Pictures.