Is there nothing that Natalie Portman can't do? Oscar winning actress, mother, dancer, animal rights advocate, human rights ambassador who has lectured in international relations and counter-terrorism. Plus a degree in psychology and two scientific papers to her name. She's an actress who becomes ever more fascinating the more you learn about her, and from memorable beginnings alongside Jean Reno in Luc Besson's great Léon she has been an actress of the highest calibre (certain George Lucas projects aside).  It turns out that Portman has duel US/Israeli citizenship and speaks fluent Hebrew; her real name is actually Neta-Lee Hershlag.
Her debut film is the intimate story of Amos Oz: a writer considered to be Israel's best living author; his autobiographical novel is the text which has been adapted into A Tale of Love and Darkness. Portman optioned the rights, wrote the screenplay, produced, directs and stars in the film, clearly not being one to do things half-heartedly. What has resulted is both an intimate character study about Oz's childhood growing up in Jerusalem and a broad meditation about the nation of Israel.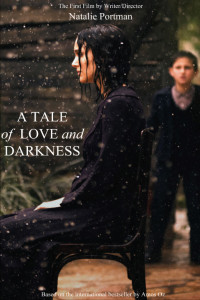 Portman plays Fania, the mother of ten year old Amos (Amir Tessler) who is growing up during the time of the British mandate which established a Jewish state – a dream which had existed ever since Theodor Herzl formally proposed it in the 1800s. Amos' father (Gilad Kahana) is an aspiring author who wants nothing more than to educate the world about Hebrew, the beautiful language of his religion. Their marriage and life is a sad and often monotonous affair which just so happens to be taking place during one of the most important periods of the twentieth century.
The Israeli-Palestinian conflict is one topic that resists any simple overview or argument. It may be the greatest moral and ethical quagmire of the last hundred years, and opinions – to put it at its mildest – differ between person to person, state to state and ideology to ideology. Both sides of it have extremists and each have acted despicably in the past. Scariest of all: most experts on the topic agree that if it ends without nuclear exchanges it will be a miracle. It's a quarter of the world where the past is a contested heirloom and any film, book or story which aims to have an opinion about this conflict will be met with both praise and outrage from different parties.
It's clear that Portman has a substantial amount of talent, and her directorial debut augers very well for any film that she takes on next. Despite showing great talent and playing around with some very interesting themes, A Tale of Love and Darkness has a problem that can be spotted right in the title itself. It can't quite mix all the conflicting tones within it, and ends up as a sombre and occasionally dreary film where the very controversial past of Israel doesn't quite come together with Portman's innocent yet respectable aspirations.
The opinion expressed by Amoz Oz, and by proxy Portman, is that of the Two-State solution. What reaction this causes will of course depend on the viewer, but Portman doesn't make any major ideological statements, she simply repeats what Oz has argued through his writing for years. This is that peace would be easily possible, and all the horror and bloodshed which is still happening over this ancient land doesn't have to continue.
Members of the Jewish community will probably get quite a lot out of this ponderous film; everyone else will find an occasionally melancholy but very competently made drama.
A Tale of Love and Darkness screens exclusively at The Classic and Lido Cinemas from 14th April.