Chris Hemsworth returns as The Huntsman in this prequel-sequel-in-one, a film that proves that sometimes there simply isn't enough backstory to be fleshed out for a whole extra movie. The Huntsman: Winter's War wraps itself around 2012's Snow White and the Huntsman, with some added faces and one notable omission. Snow White isn't seen this time around (only briefly from the back), most likely on account of Kristin Stewart's indiscretion with previous director Rupert Sanders. This time it is visual effects specialist Cedric Nicolas-Troyan who takes the director's chair.
In this recycled effort, the evil queen Ravenna (Charlize Theron) is back, along with her sister Freya (Emily Blunt). Members of Freya's Huntsmen army since they were children, Eric (Hemsworth) and his lover Sara (Jessica Chastain), attempt to rebel. Freya could easily be mistaken for Frozen's Queen Elsa in her role as ice queen, and one can only assume that the person who brought their toddler to this screening got their fairy tale films confused. This is not for children. And Freya does not sing 'Let It Go'.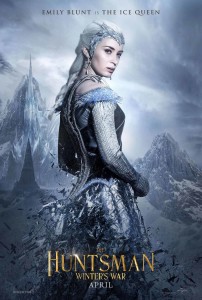 Hemsworth has a twinkle in his eye and a killer smile but it too often borders on corny. His accent also makes it difficult to understand half of his dialogue. His chemistry with Jessica Chastain isn't entirely there, and her fake tan doesn't help (you don't put fake tan on Jessica Chastain, people!) Charlize Theron very nearly overdoes it as Ravenna and adds nothing new to her previous effort. Emily Blunt is the clear standout; as always she is a pleasure to watch. In smaller roles, Nick Frost, Rob Brydon, and Sheridan Smith add some comic relief as dwarves, but something doesn't sit right with full-sized actors (who are digitally shrunk) taking these roles.
It's heartening to see a film with three strong female characters, and there are some interesting ideas in the screenplay, notably Freya's attitude towards children and love. But it's not enough to sustain an almost two hour long film. It feels like nothing really happens until the last twenty minutes or so, and while the finale is enjoyable, it's too similar to that of its predecessor. Co-writers Evan Spiliotopoulos and Craig Mazin don't have too much experience with original ideas, however, with Spiliotopolous' résumé consisting mostly of other B-grade takes on fairy tales, and Mazin's biggest claim to fame the third and fourth versions of the Scary Movie franchise. The visual effects are unsurprisingly strong, and the costumes are to die for. But this franchise probably needs to die now too.
The Huntsman: Winter's War is in cinemas from 7th April through Universal Pictures.