Arriving in the same few months as Son of Saul comes the first feature film of Giulio Ricciarelli. Set in West Germany during 1958, just thirteen years after the second world war, this is the true story of Johann Radmann (Alexander Fehling), an idealistic young public prosecutor who stumbled across the case of Charles Schulz. Schulz was a high-school teacher who is revealed to have been a commandant at a camp during the war. The name of this camp is etched into the mainstream conscience today, but during the 1950s it was a word that Germany desperately wanted to forget and which the world hadn't yet come to know:  Auschwitz.
"This is a labyrinth", one character warns him, "Don't lose yourself in it". Without knowing what unspeakable secrets would emerge from this investigation, Radmann pursues the case and in the process discovers the dark past of not only Germany but an entire generation of his countrymen.
German-made films about this post-war period have included some truly great work over the past few years. Two that stand out are the magnificent The Lives of Others and Christian Petzold's Barbara starring Nina Hoss. Although not reaching the same heights, Labyrinth of Lies is a very respectable and constantly intriguing history lesson into a period that is often overlooked. It's easy to forget that we as a modern audience go into films about the Holocaust and World War 2 with 20/20 hindsight; we all know the basics of what happened during those years. In 1958 this was not the case; no one knew about Auschwitz and the things that went on there. The general public didn't know what had occurred in Europe during those years, and with the memory of it still fresh in the minds of a generation, really didn't want to venture down that particular rabbit hole.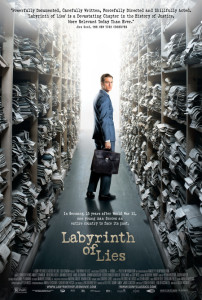 Working from a screenplay by the Italian born director Giulio Ricciarelli and writer/researcher Elisabeth Bartel, Labyrinth of Lies tries, and for the most part succeeds, in all it sets out to do. The story of this investigation is a conglomeration of many cases that happened at the time. Its aim is to educate rather than to be a slave to historical accuracy. This also means that it can add a human story; within the confines of the legal drama there's a nice little love story woven into proceedings. It is also a very interesting study of a generation who had to wrestle with the fact that many of their fathers had willingly found themselves on the wrong side of the worst war that mankind has even waged against itself.
Something to remember about the Third Reich and the unspeakable things it brought the world, is that Germany seems like the last place that a thing like that could happen. It's hard to believe that an old and cultured nation in the heart of Europe which was internally renowned for its art and philosophers could be the seedbed for national socialism. Germany had given the world Martin Luther, Immanuel Kant, Gutenberg, Goethe, Bach and Beethoven, yet in the first half of the twentieth century it allowed a fanatically racist dictator and his party to be their rulers. The country which had once led the Enlightenment carried out a policy which is unique in all of human history: the mechanised extermination of an entire people. Cast your mind to what Sheriff Bell says in No Country for Old Men – "you couldn't make up such a thing as that. How dare you'd even try?"
Although it does sometimes follow a predictable path and occasionally comes off like a TV-movie, Labyrinth of Lies is a basic but still thoroughly enjoyably history lesson. It ends up being quite informative and thought provoking, and ties everything together with a fairly good screenplay and some nice performances.
Labyrinth of Lies is in cinemas from 31st March through Madman Films.