April and the Extraordinary World beings with an intriguing and cerebral premise: Napoleon dies in a chemical explosion and the trajectory of history is radically different. This French-Belgian-Canadian animated film is directed by Christian Desmares and Franck Ekinci, and adapted from a graphic novel by Jacques Tardi.
After the death of Napoleon, the development of science and scientists is arrested; there is no electricity, no radio or cinema, no aviation. In the early 1940s, when most of the story is set, Parisians are living in a relatively archaic fashion. Relying on coal for fuel, then charcoal when coal supplies are exhausted, trees are artifacts for museums and Paris is covered by thick layer of soot and a cloud of polluted smog.
Prior to his death many decades earlier, Napoleon had been working with a scientist named Gustave; indeed it was in Gustave's laboratory that they both met their deaths. Gustave was working on a serum to create invincibility, with Napoleon dreaming of an army of indomitable soldiers. He died too soon to succeed, but accomplished in making two large lizards talk.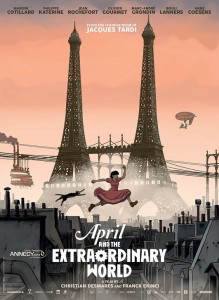 It is years later, in the 1930s, and Gustave's son Pops (Jean Rochefort), grandson Paul (Olivier Gourmet), and Paul's wife Annette (Macha Grenon) are working to finish the serum. The trio are in hiding, along with Paul and Annette's daughter April (Marion Cotillard). As scientists they fear being kidnapped by the state and forced to develop weapons. When the overzealous police inspector Pizoni (Bouli Lanners) tracks them down, April is left an orphan. She runs away, living on the streets of Paris with her talking cat Darwin (Philippe Katerine).
Ten tears later, April is now a scientist herself, living in a bleak and polluted Paris. She works on the serum – using chemicals she steals – as a tribute to her parents and as a means to save the elderly and dying Darwin. When she succeeds in saving Darwin she becomes a target for a mysterious enemy, and things may not be quite as she had previously thought.
The animation quality of April and the Extraordinary World is gorgeous. Simple line art in the style of comic books from the era in which the film is set – Herge's Tintin in particular – is very effective and makes for beautiful viewing. The opening credit sequence is exquisite and enthralling. The camera moves through a laboratory; names of cast and crew adorn labels on bottles, tabs on filing drawers. The soundtrack to this sequence is reminiscent of Hitchcock and the imagery is detailed in the most captivating way.
While the premise of the film is really promising, April and the Extraordinary World doesn't entirely deliver on its potential. After a wonderful set up, the film becomes a little silly. The initial premise suggests that the film will be an intelligent reflection of 'what might have been', a commentary on what we've done and haven't done with crucial scientific advancements. There is a consciousness of climate change and current issues and initially it seems that the film will address these. In reality, this is a children's film and those topics are not to be interrogated in this instance.
Any mild disappointment felt in viewing this film is quickly overcome. It is truly beautiful to watch. It will conceivably be very appealing, and possibly inspiring, to school aged kids, and it will be no chore for parents to sit through either.
April and the Extraordinary World screens exclusively at Cinema Nova from 31st March through Studiocanal.