Written and directed by Clara Mamet who also stars, Two-Bit Waltz is a charming first feature film. Taking cues from Wes Anderson's nostalgic stylings, Mamet has produced a sweet, albeit affected, film.
Mamet plays Maude. She is about to turn 18, but is faced with a series of mild traumas in a very short space of time. Suspended from school for making jokes in very poor taste, she is on the outs with a boyfriend to whom she lost her virginity, her best friend is moving away to college, and her grandmother has died. Maude is failing school (because she is making no effort at all), but her grandmother has left her five million dollars – if, and only if, she goes to college. If Maude is not enrolled by her birthday, her inheritance is forfeited to a home for dogs.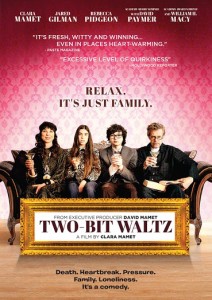 Chain smoking and bereft of insights, the neurotic Maude kills time at home trying to make her decision regarding the inheritance. She is surrounded by a collection of oddballs; her mother (Mamet's own mother Rebecca Pidgeon) is self centred, her father (William H. Macy) is constantly reading, often under furniture, and her brother (Jared Gilman) is so intellectually gifted that it's a social disadvantage. Maude's two best advisors and confidants are her best friend Jenny (Ella Dershowitz) and her therapist (John Pirruccello), both of whom are patient to a fault.
Mamet is at an advantage in making her feature film debut: as the daughter of screenwriter and playwright (as well as director) David Mamet, she clearly has resources beyond the means of a first time writer/director. She has done well with these resources. William H. Macy seems to be enjoying himself in a role which is almost a non-speaking part. There is a lovely colour palette to Two-Bit Waltz, gorgeous settings and costumes which are warm and nostalgic and betray a sense of maturity on Mamet's part.
The film is a little underwhelming and self indulgent. Maude is a brat of a character; while she has her charms she is also rather annoying and she does not garner much sympathy in her plight. Her dialogue is especially pretentious, and at times unbelievable of a teenager, even one who aspires to write. The eccentric styling is accentuated by dream sequences which are apparently Maude's internal thought processes. In her imaginary world, Maude encounters people in animal masks who give her guidance of sorts. It's another indulgence which works just fine, but is not entirely appealing.
It is easy to anticipate that this film will be off putting to many, however it is charming and what it does best is show a great deal of promise for its young filmmaker. Mamet is only in the very early stages of her career, and if Two-Bit Waltz proves to be her worst film then she is really doing quite well.
Two-Bit Waltz is available on DVD/VOD from 23rd March through Bounty Films.