A Bigger Splash, directed by Luca Guadagnino (best known for recently directing I Am Love), opens with a couple spending an idyllic summer on the small, secluded Italian island of Pantelleria. However, with the arrival of a close friend and his daughter, the screenplay by Alain Page, with a story by David Kajganic that was loosely inspired by La Piscine (a 1969 Italian-French film), becomes increasingly tense, working to offset the sun-kissed languor of the setting. Guadagnino is adept at sustaining a nuanced balance in mood throughout most of the film, but the seemingly inevitable climax, and its aftermath, do not quite make the impact they aim for. Nevertheless, the fine performances, especially apparent when the quartet splits into duos of various combinations, make the layered plot quietly riveting to behold, and are the film's strongest asset.
Rock star Marianne Lane (Tilda Swinton) and her partner Paul (Matthias Schoenaerts), a filmmaker, are on holiday in Italy, hoping to spend some alone time together while Marianne recovers from her throat operation. However, their vacation is gate-crashed by Harry (Ralph Fiennes), Marianne's former lover and friend who introduced her to Paul. Harry brings an irrepressible exuberance and disrupts the previously relaxed mood, also bringing along his daughter Penelope (Dakota Johnson) who he only became aware of a year ago. Together, they spend the summer in and around an isolated villa complete with swimming pool. Slowly, and inexorably, pre-existing tensions, personal demons and new pressure points are revealed, and cracks start to show. The film ultimately takes on a dark turn that seems to be both inevitable and surprising at the same time.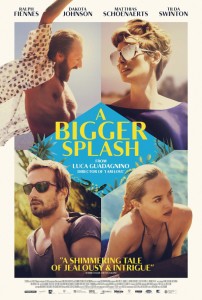 The quartet all put in strong performances. As a largely silent rock star Swinton still manages to prove why she is one of the most widely admired actors working today. She makes her transition from rock star to 'domesticated' readily convincing, and no doubt part of this must be attributed to her chemistry with Schoenarts. Together, they bring such a natural ease to their relationship, an unassuming generosity, humour and warmth that seems effortless. Schoenarts shares his (now characteristic) easy charisma with Swinton, but with Fiennes and Johnson, he becomes visibly more irritated, conjuring an impatience that is palpable. Johnson turns what could have been a 'ditzy daughter' role into something more cunning, sly and crafty. But Fiennes puts in the most surprising performance. His effusive energy, verve and zest almost smothers all the other performances, but at the same time he reveals the persistent vulnerabilities and insecurities which bubble up and exacerbate his penchant for impetuousness.
However, where the film feels a little disjointed is when the significant event happens. The pacing of the first half is, like its quartet, indulgent, and even a little resistant, to the palpable, inevitable feeling that something is going to happen – the accumulated build-up of smaller, tension-filled exchanges and interactions, of clandestine motives that go unfulfilled. The film probably spends a little too long on this build-up, so that when the major event happens the impact feels somehow dissipated. And when the jarring score, which really only emerges in the second half of the film, is juxtaposed with this picturesque island countryside and rolling hills, it seems a little forced, as if designed to enhance the sense of foreboding.
In the end, A Bigger Splash rests on the strength and charisma of its performers, even if the atmosphere and mood that builds throughout is not effectively modulated to match them.
A Bigger Splash is in cinemas from 24th March through Studiocanal.