In fictional worlds, there are no jolly returns to childhood homes. It can be accepted that, after a long absence, a man now grown up with the appearance of success will only return when he is masking a ruined existence and heaving a host of long-held grudges. This is the case in The Daughter, writer and director Simon Stone's atmospheric adaptation of Henrik Ibsen's play, The Wild Duck. While Stone is more commonly known in theatre circles, his eye for the play's intricate dramatic realism shines through in this finely shot take on Ibsen's harrowing tragedy.
Here we join Christian (Paul Schneider from Parks and Recreation) as he returns to his rural Australian childhood home after many years in America estranged from his wealthy father, Henry (Geoffrey Rush). The occasion is Henry's looming marriage to his much younger housekeeper (Anna Torv), a reality to which Christian isn't keen on giving his blessing, given the unfortunate end to his own mother's life that has precipitated the divide between father and son.
The oncoming wedding is not the only deed of Henry's causing problems for the town, as his family woodmill – a large local source of jobs – has just been forced to close. One of those affected is Oliver (Ewen Leslie), a childhood friend of Christian's, whose wife Charlotte (Miranda Otto) used to be Henry's housekeeper, and whose subdued ex-con father, Walter (Sam Neill), keeps a wildlife sanctuary next to the family home. The newest edition to the sanctuary is a wild duck that was shot by Henry, and whose recovery presents a symbolic reference point for the remainder of the film.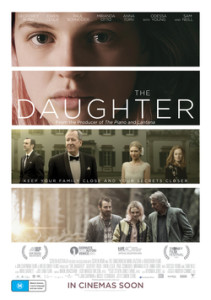 At the centre of this brewing storm is Hedvig (Odessa Young), Charlotte and Oliver's daughter, whose experience of young love and a comfortable home life (tied together with that of the duck) dances precariously on the edge of doom – particularly now that Christian and his secrets have arrived.
This is a study on the nature of truth, but most importantly those truths perhaps better left unmentioned. And if you're a pragmatist at heart, the second half of this humourless tale will be a grind, as Christian continues to blindly stir said pot against all logical reasoning. The transposition of the play's landscape to the grey aftermath of defunct rural Australian industry neatly weaves a damning commentary on how communities are being affected by the closure of businesses that largely sustain them. Here it is a timber town, but it could easily be fruit production or car manufacturing that provides the dramatic foundations here. When Oliver and his co-workers are rendered jobless, it is first the immediate lack of income that breeds unease. Then the domino effect engulfs the school and its future, as children and their families move elsewhere for work. Ultimately, none of this bodes well for Hedvig, the most innocent and promising of all.
The Daughter might reaffirm for some that Australian cinema can be a bit one-dimensional in its preference for bleak realism, but it certainly boasts great work from a beautifully assembled cast, with veterans Neill and Rush both very impressive in their subdued roles. Anna Torv and Miranda Otto are also fine additions, as is Schneider, who is a surprising choice for the lead role. However, the performances holding The Daughter together are those of the ever-impressive Ewen Leslie and Odessa Young as father and eponymous daughter. Leslie fits into the mould of mill worker without a hitch, while Young's portrayal of teenage fragility is heart-wrenching.
It is with this word 'heart-wrenching', however, that this reviewer has a quandary. Indeed, for the same reasons one cannot forgive Nicholas Sparks films for being so irritatingly obvious in their emotional manipulation, it's hard to warm to Ibsen's tale, and subsequently Stone's adaptation, which brings together all the pessimism towards the human condition that the Norwegian could muster. This is certainly well acted, paced and shot, and such plotting is artful in its complexity, but without any pay-off, a viewer can only leave feeling drained and disheartened. Knowing Ibsen's famously bleak philosophical outlook, it's probably just the way he'd want it – to hopefully inspire people to do the right thing by demonstrating how easily it can go oh so wrong.
The Daughter is in cinemas from 17th March through Roadshow Films.