Spear is a non-linear story of a reconciliation of aboriginal heritage within a white man's society, mostly told through the medium of interpretative dance. The film does not possess a cohesive narrative, but is told in a great many 5-10 minute sequences, all of which echo the one theme. I often applaud films for allowing the space and time for viewers to ask important questions, but Spear is taking the proverbial with this one. The medium that director Stephen Page has told it through hinders any important take home message.
Each short sequence features a young aboriginal man (Hunter Page-Lochard) observing a highly metaphorical story or involved in an aboriginal ritual. His acting directions all involve staring blankly while wearing skinny jeans and a fashionable singlet.  Symbology isn't layered into the sequences but slathered on with zero finesse. With the exception of one or two components I wasn't sure if I was watching the result of a collaborative drama student project, or Chris Lilley's Mr G's hypothetical attempt at covering an aboriginal man's place in society.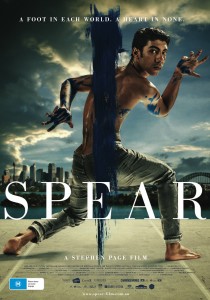 Pushing the envelope creatively, this film belongs in the realms of experimental theatre offshoots. Director Stephen Page is the artistic director of the Bangarra Dance Theatre. His experience does not translate well into a cinematic voyage, creating an impotent dogme stylised film – accidental or not. The dance and ritualistic elements are the film's strongest elements, and yet stage, sound, story, characters and even actors are highly under developed or non existent. This is arguably to place emphasis on the one recurring theme but in doing so it becomes droning rather than an equivocal or subversive story.
At times an elder Aboriginal man is simply juxtaposed against something as simple as an escalator or bowling alley. Wordlessly the film screams "powerful viewing ahead!" In one sequence a recurring deranged aborigine struggles to verbalise his attempts to fit into a system that won't have him.  Shirtless skinny white boys straight from film school walk past him. It's a total shame this politically charged artistic endeavor has no venom in its sting.
This is a story that could have been told so much better with a narrative such as the thematically comparable Charlie's Country. There are no rules for cinema, and great film can push boundaries or completely break them, but without tension, plot, or cohesiveness, Spear is an artistic endeavor that falls flat.
Spear will screen in selected cinemas for a limited time from 10 March 2016. Screening details at www.spear-film.com.au

Half a blerg