Microbe & Gasoline is the latest feature of French auteur Michel Gondry. Pre-teenage adolescent Daniel (Ange Dargent) feels overly anxious and misplaced in life. At school he is nicknamed Microbe due to his small stature and effeminate characteristics. Transferred into his class is new student Theo (Théophile Baquet). Theo with his faux red jacket and recalcitrant nature is the polar opposite of Microbe. His carefree nature and peculiar habits leads to his ostracism, and his love of all things mechanical results in the nickname Gasoline. Daniel finds himself drawn towards Theo and they become fast friends.
The root causes of each child's psychological natures are revealed with exposure into their home lives. Gasoline's parents are belligerent and only seek him out to chastise and scold him. Conversely Microbe feels suffocated by his mother's love and is burdened by her depression. In an effort to escape their lives the boys build a vehicle to travel to Gasoline's old summer camp (whose cooks have reputedly large breasts!). But alas, they run into the red tape of bureaucracy and in an effort to get around registering their vehicle, convert it into a tiny house on wheels to hoodwink authority and agree to only travel back roads.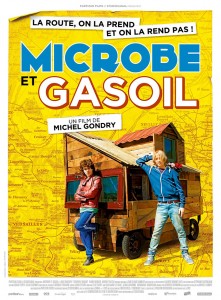 Michel Gondry – known for skirting the line of whimsical fantasy and edgy realism – taps into a rich theme of male friendship.  At the heart of the film is the bond between two boys on the cusp of young adulthood. Not often explored on screen, male-male relationships often fall into tired stereotypes. It's great to see one explored in a non-ironic, sincere fashion. The boys' late night talks covering all topics and mutual reassurances are warm and bring slow waves of revelations.
Like most Gondry films the movie works a lot better for the viewer if you suspend disbelief and engage with it in a childlike, heart filled manner. The practical hand crafted effects layered with dreamy artistic sequences is a hallmark of Gondry's film making and Microbe and Gasoline continues this tradition to an extent. However, anyone expecting a return to La Science des Rêves or Eternal Sunshine of the Spotless Mind will be left wanting. It's telling that the film's greater moments are the ones trenched in realism while much of the whimsical misadventures feel chimerical and dull.
Whilst not his best effort, Michel Gondry has crafted a heartwarming film, albeit much of that warmth is lukewarm.  It is a pleasure to say perhaps the greatest moment in the film is found in the ending, something so many films get wrong nowadays. Gondry manages to finish the film on a sublime note. Audrey Tautou shines as Microbe's clinically depressed overbearing mother, but only appears sparingly. The two boys – Ange Dargent as Microbe and Théophile Baquet as Gasoline – both display great emotional maturity and promising ability. The film is a great display of friendship in all its realistic, palpitating, boring, tense and terse glory. This is one to watch with a glass of red and should be enjoyed by most demographics and certainly any francophiles.
Microbe & Gasoline screens as part of the Alliance Française French Film Festival from 2nd March.