It has been a while since co-directors and co-writers Joel and Ethan Coen have made a straight up comedy – eight years in fact, with their 2008 film Burn After Reading. With Hail, Caesar! they mark a return to the genre, with a film that takes place in 1950s Hollywood. It boasts several strong elements – solid acting, a humorous script, well-executed set pieces – that make it an engaging piece of cinematic nostalgia. However, it is not as uproariously funny as their last effort, and therefore whilst it is generally entertaining fare throughout it does not rank among the more memorable or significant works in their distinguished filmography.
The film revolves around Eddie Mannix (Josh Brolin), who works as a 'fixer' for Capitol Studios, a film company in the 1950s. One of his main responsibilities is to ensure that any scandalous stories involving actors do not attract negative media attention. Several intertwining plot lines diverge and intersect around Mannix, but the main one involves famous movie star Baird Whitlock (George Clooney) being abducted from the set of his latest film set in ancient Rome called Hail, Caesar! As Mannix goes about stalling time to suppress rumours about Whitlock's infidelity or drinking stemming from his prolonged absence, he thrusts Western actor Hobie Doyle (Alden Ehrenreich) to star in director Laurence Laurentz's (Ralph Fiennes) latest sumptuous social drama. He also organises for unmarried actress DeeAnna Moran (Scarlett Johansson) to look like she is 'adopting' her own child to avoid social scrutiny. All the while, Mannix is being tempted with a job in the aviation industry at a time when television began to make its mark and the future of film was being questioned.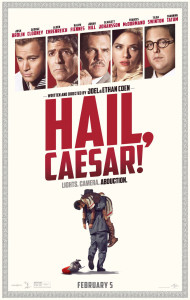 The ensemble cast are strong across the board, from Brolin's smooth but conflicted central performance to the string of cameos and recognisable faces which are peppered throughout, including Tilda Swinton as twin gossip reporters. Two performances deserve particular mention. Clooney's oblivious, clueless mug has not been seen this prominently since O Brother, Where Art Thou?, and he puts it to hilarious use as he becomes increasingly enamoured by his captors and their political views. And Ehrenreich infuses his performance with such effortless modesty, charm and charisma that his Hobie Doyle is easily the most likable character in the film. Together, the talented cast render their characters' quirks, idiosyncrasies and flaws with an amusing, light-hearted flair.
This flair is also evident in the light, cheekily irreverent humour throughout the film. Key hilarious scenes include Fiennes trying to give direction to Ehrenreich's cowboy character on the particularities of pronunciation, a discussion on how Hail, Caesar! may or may not offend various religious denominations, and a delightful and suggestive dancing sailor routine led by an infectious Channing Tatum.
These scenes and others are comical and polished in their execution, but overall they are more effective as individual scenes, overwhelming the strength of the film in a cumulative, overarching sense. Additionally, the film's resolution comes across as a little too convenient. Overall Hail, Caesar! contains thoroughly enjoyable scenes and is often infectious in its diverting humour, even if these elements do not entirely add up to an impactful whole.
Hail, Caesar! is in cinemas from 3rd March through Universal Pictures.