In Milan, Italy, sits the Teatro alla Scala. One of the world's greatest theatres, it has hosted every name that is worth hosting in the European performing arts scene since opening over two hundred years ago. This documentary tour through one of the most beautiful buildings in Europe is brought to the screen by Luca Lucini and Silvia Corbetta. Made with passion and flare, it is a must-see for anyone who is even remotely interested in classical music, ballet or the European theatre scene.
Mixing interviews with those that work at La Scala with archive footage of the theatre's long and fascinating history, a sense of the true power of the performing arts is created. Spliced among these are tangents where actors have been employed to bring some giants of classical music to the screen with first person accounts explaining a certain aspect of their history which is both beautiful and fascinating. If you were lucky enough to be brought up enjoying classical music or have played an instrument then this is the kind of experience that validates every second spent enjoying, studying or making music.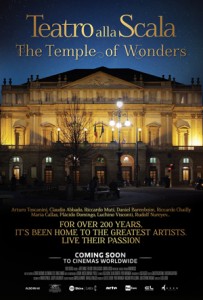 Cinematography by Luca Bigazzi is exquisite. The theatre, which stands as a monument to the extraordinary architect Guiseppe Piermarini, is photographed to perfection. Moments of beauty which may literally make your jaw drop come up every few minutes. Bigazzi was the D.O.P on both The Great Beauty and this year's Youth; his work here is enough to make you start saving for a trip to Italy to experience this theatre with your own eyes.
The great accomplishment of Teatro alla Scala is that those who are already fans of classic theatre will see this like a dream come true, but for those who aren't already part of the classical music club this might be the tipping point that makes a fan. It certainly makes you want to see Rossini's The Barber of Seville live on the stage at least once in your life. Upon coming home don't be surprised if you start browsing Youtube for classical musical performances as the vibe of the film is infectious. A re-watch of Amadeus might also be on the cards.
The passion and the artistry that is put into every single performance that goes through La Scala is truly a thing of beauty. Even for those who don't think this kind of documentary would interest them, Teatro alla Scala is a monument to the power of the performing arts which leaves a lasting impression. Expect to place a trip to La Scala on the bucket list once this masterful documentary is experienced, or at the very least a trip to one of Melbourne's many classical theatre or musical halls in the not-too-distant future.
Teatro alla Scala: The Temple of Wonders is in cinemas from 27th February 27th through Sharmill Films.