In 1996 Infinite Jest was released. A sprawling, postmodern epic, it is almost 1000 pages long and boasts 388 accompanying footnotes, and has become one of the most influential novels of the past few decades. It also made its author – David Foster Wallace – a literary celebrity, and he embarked on a ten-day tour following its publication. Unfortunately, in 2008, Wallace committed suicide. The End of the Tour, directed by James Ponsoldt and with a screenplay by Donald Margulies, follows Wallace (Jason Segel) on the Infinite Jest book tour as he is being interviewed for Rolling Stone magazine by David Lipsky (Jesse Eisenberg). Lipsky eventually turned his experiences with Wallace into his 2010 memoir Although Of Course You End Up Becoming Yourself. It relies, impressively, on the easy chemistry between its two leads, who make the film intellectually agile, verbose and engaging whilst being thematically wide ranging in scope.
Lipsky  has just heard about Wallace's  suicide. He recalls his interview twelve years prior by listening to the recordings he made as he followed Wallace on his book tour, and we are transported back in time to 1996. Back then, Lipsky was a moderately successful author, but when he reads Infinite Jest he is immediately struck by Wallace's genius, and eventually persuades his editor to allow him to interview him. They first meet in Wallace's modest house, and then move on to the book tour across the Mid West, discussing a range of topics as they meet fans, run into some of Wallace's old friends and embark on the beginnings of a friendship.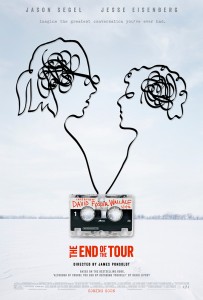 The screenplay crackles with a fast-paced intelligence that is quietly thrilling to behold. Their conversations cover everything from Alanis Morissette, dogs, and television, to Wallace's own personal struggles with alcoholism and, allegedly, heroin, oscillating between the mundane and the weighty with incisive wit. It seems to reflect the mix of high- and low-brow, a hallmark of postmodernism that was so readily on display in his novels. It also explores literary genius, shifting social personae and the consequences of sudden fame.
The screenplay is brought to life by the two accomplished lead performances. Eisenberg infuses his performance with a mixture of insecurity and admiration, but also tempers it with hints of cynicism that work to simultaneously affirm and undermine his own awe of Wallace. As a journalist he is slightly conflicted about how to separate his own respect from the way he will eventually come to write the article. In this sense the film is also an intriguing exploration of the responsibilities, if any, journalists have towards the 'faithful' representation of their subjects.
But even more impressive is Segel, who, in his first lead dramatic role, succeeds in transcending his largely comedic roots. He captures Wallace's physical mannerisms, particularly his patient, considered lilt, but he also imbues his performance with a palpable unease about his fame, a reluctance to acknowledge and accept others' praise. He also skilfully vacillates between being cheeky, defiant and insular. Mostly though, his performance is startlingly frank and yet restrained in its vulnerability, and by the end there is the undeniable cumulative impression of loneliness and melancholy to his portrayal that is quietly moving. Together, Eisenberg and Segel navigate the laid-back exchanges, personal revelations and awkward tensions that emerge over the course of the film with an absorbing ease, and make The End of the Tour a highly rewarding viewing experience.