Technology has progressed so quickly that people can now starting shooting films on iPhones.  Like Tangerine. But it is not just 'a' film, but a solidly directed and well-acted film with attitude to spare. In fact, you would never have guessed it was shot with an iPhone 5S. Sean S. Baker was directly involved in several aspects of the film – directing, screenwriting (with Chris Bergoch) and cinematography (with Radium Cheung) – and he has created not only a highly entertaining film, but also redefines what is technologically and artistically possible for film-making on a small-scale budget.
But the film also welcomingly explores new territory and pushes boundaries in its story-telling and casting, providing insights into livelihoods that have rarely been explored in film. Set on Christmas Eve, Sin-Dee (Kitana Kiki Rodriguez) has just been released from a 28-day stint in prison, and she is catching up with her close friend Alexandra (Mya Taylor) in Hollywood; both are transgender sex workers. However, soon Alexandra unwittingly reveals that Sin-Dee's boyfriend – and pimp – cheated on her whilst she was in prison. Incensed into an impetuous rage, Sin-Dee sets off on the streets of L.A. to find him and the woman he cheated with. Alexandra follows hopelessly behind trying to calm her down, whilst also publicising her singing performance later that night. Their paths also cross with a married Armenian taxi driver, a client who also has a crush on Sin-Dee. The film is infused with a bold, brash energy and kinetic pacing, and is an engrossing, hilarious romp.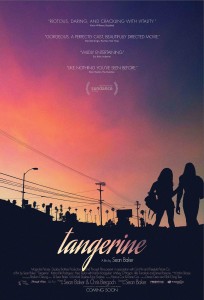 Baker and Cheung's cinematography is agile and adept at creating a palpable rhythm as Sin-Dee and Alexandra traipse across Hollywood. The angles they choose, often odd and slightly askew, not only track them as they make their way around town, but also capture so much of the vitality and verve of L.A. simmering in the background – the vivid crowds, graffiti-covered walls, and cracked, worn-out pavements. The brightly lit, vibrant colour palette that bathes the film contributes to the current of energy that reverberates throughout, sustaining a contagious momentum.
The film's two central performances are also fantastic, despite the two lead actors having no prior acting experience. They embody fully realized contrasts: Rodriguez is all hasty, impetuous wrath, and Alexandra is calmer, more balanced in her demeanour. But despite portraying such distinct characters, both infuse their performances with an authenticity, resilience and vulnerability that belies the often hilarious situations they encounter, and both pull off this balancing act with an assured aplomb. This gestures towards the struggles their characters experience and encounter on a daily basis, and to, in Alexandra's words, 'their hustle', providing insights into perspectives that have so far been underexplored and underrepresented in film.
Tangerine is noteworthy and special for several reasons, among them its casting and technological experimentation. However, beyond all this it is, when it comes down to it, a highly entertaining and accomplished film. Hopefully its risks encourage other filmmakers to diversify and experiment in novel, exciting ways.