After six Rocky films one would expect there to be some fatigue, even a little indifference, at the prospect of yet another film. However, in Creed, director Ryan Coogler takes the franchise in a new direction and consolidates the talent he demonstrated in his auspicious debut Fruitvale Station. With a screenplay that Coogler wrote with Aaron Covington, the film is firmly focussed on Rocky's protégé, the youngest son of Apollo Creed, with Sylvester Stallone reprising his iconic role as his mentor. And whilst the storyline does not deviate too much from expectations, it is pitched less as a continuation of the Rocky franchise and more a signal of a new beginning (a sequel has already been confirmed). In this sense, it is an effective blend of the old and the new, offering an intriguing new character whilst adding an emotionally resonant chapter to Rocky's story.
Adonis "Donnie" Johnson (Michael B. Jordan) is the son of Apollo Creed, Rocky's main opponent in the first film but friend thereafter. His childhood was troubled, but after being taken in by Creed's wife he grows up and obtains a stable job at a securities company in L.A. However, Donnie's true passion is boxing, but he is intent on making it on his own without using his father's name and legacy. Unable to secure a trainer in L.A. he travels to Philadelphia and tracks down Rocky, whilst also embarking on a relationship with aspiring singer Bianca (Tessa Thompson). After some reluctance Rocky agrees to train Donnie. Despite his relative inexperience, growing awareness of who his father was attracts enough attention to secure some high-profile boxing matches, and eventually one with world light heavyweight champion "Pretty" Ricky Conlan.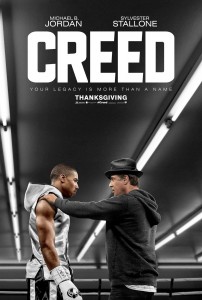 With a film which has a long, culturally embedded history, there's bound to be baggage and expectations. However, Coogler has largely succeeded in taking the franchise and carving a new direction for it, firstly built around his charismatic lead actor. Jordan delves into Donnie's search for identity with natural ease, charisma and sensitivity, suffusing his performance with all of the best qualities that were on display in Fruitvale Station – a thin veneer of requisite cockiness that is nevertheless betrayed by vulnerability, yearning and warmth. His drive, physicality and strength, even in scenes where he is training, is always coupled with the understanding that it is all inseparable from his identity, that each punch is a punch on his own terms. Nevertheless, the film is also interested in how Donnie inevitably has to negotiate his strong sense of individuality with the inescapability of his father's legacy.
Jordan also shares great chemistry with his co-stars. Thompson invests what could have been a stock girlfriend character with a quiet depth and drive of her own. Not surprisingly though, it is Jordan's on-screen relationship with Stallone that is the emotional centre of the film. Stallone's performance is generous and heartfelt; he is less interested in drawing attention to himself as to investing in and fostering a genuine and supportive relationship with his protégé. He nails the emotional sincerity of his key scenes, providing a touching portrait of a man who, despite having lost those closest to him, finds renewed strength, purpose and resolve.
Creed may not pretend to offer an innovative take on the boxing film genre as a whole, but it nevertheless succeeds in delineating new territory whilst remaining respectful of its roots.