Félix and Meira is a love story. It is neither groundbreaking nor particularly exciting, it must be said. However, there is a haunted tone that director Maxime Giroux has captured in the drab skies and sleet snow of Montreal that, painted on screen, is deceivingly beautiful and graceful. The story is rather slow paced, but undoubtedly there is a crescendo that builds and bubbles underneath silent exchanges and limited dialogue.  The characters -Félix (Martin Dubreuil), a poetic and isolated loner, and Meira (Hadas Yaron), suffocated by marriage and religion – meet and pursue a delicate romance.
The film opens on Meira (played wonderfully by Israeli actress Yaron). She is married to Shulem (Luzer Twersky) in a dutiful pious household. They are Hasidic Jews, and she exists within an isolated and ultra conservative religious community. It's hard to know whether the film is critical of this community or whether it is presenting the community simply as it is. While it throws no punches directly at Hasidic jews, the repressive and subservient role of women clashes heavily with Western progressive values and fuels Meira's invisible angst. With her meekness and soft doe like features it's hard not to empathise with her plight. Contrast to this is Félix. Middle aged and grieving his father's recent death, he runs into Meira and her child on the streets. He is more or less an agnostic Jew who asks for Meira's council regarding mortality. Meira for her part ignores him, yet after another chance meeting finds herself drawn to his affable, congenial manner.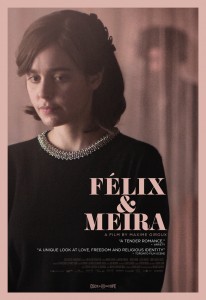 There is an ecstasy to Meira's narrative that is hard to define. A woman suffocated by life and no apparent escape finds salvation within the arms of a person unknown to her months prior. At times the film is, in terms of beauty and psycho sexual undertones, both on par and reminiscent of Steve McQueen's sublime film Shame. A resplendent sequence that takes place mid-way through the film begins with Meira trying on jeans in the bathroom of their hotel (relevant as they're forbidden to her) while Felix sits on the bed. They spend the night patronising underground clubs and drifting through vibrant city streets filled with worldly music. The atmosphere so perfectly captures the infatuation and endorphins of the two, that the sickly sweet smell of dance induced sweaty pheromones permeates from the screen. Concluding the night Felix tenderly runs his hands through Meira's hair underneath a moon lit window. It's all rather sweet; even to a bitter cynic such as myself! Meira is smitten and must make a choice to break away from her comfortable existence or risk everything for an unshackled existence she herself knows is incomprehensible to her.
If the slow pace doesn't detract you, there is a lot to take away from this film. It is a nuanced subdued love story. The eclectic soundtrack and the way music is used is one of the major take away joys. Meira listens to Wendy Rene's 'After Laughter' as a subversive, poignant act. Another highlight is Leonard Cohen's 'Famous Blue Raincoat' playing while she spies on two lovers fornicating through an open window. While the payoff of the film is limited and the lack of plot or substance will deter most viewers, this is the kind of film that will resonate with you after viewing. Shining with its tonal beauty, its flaws ultimately create a frustrating move for Maxime Giroux's third feature. Whilst he has managed to gets so many small details perfect yet, the film misses the forest from the trees.
Félix and Meira screens exclusively at Lido Cinemas from 18th February.