There's a quote that gets thrown around by both comedians and pessimists that goes "If marriage didn't exist would you invent it?" Trying to capture the complexities of a marriage on a cinema screen seems like it would be a daunting task, with all the complicated emotions that come with such a union; the joy, the sacrifices, the endless compromise and the quiet resentment that builds up over time. It would be even more difficult if it was marriage that has stood the test of time for nearly half a century, but this is the task that Andrew Haigh has set himself and the result is astonishing.
Set over the six days leading up to their forty-fifth wedding anniversary, 45 Years is the story of Geoff and Kate Mercer (Tom Courtney & Charlotte Rampling). They are a well-read English couple who seem to live an idyllic lifestyle in rural Norfolk. Complexity is thrown their way when a week before the party Tom receives a letter from Switzerland. Back in the 1960s his girlfriend Katya had died after falling into a crevasse while hiking with him in the Alps. Her body has only now been discovered because the ice sheet covering her has melted due to global warming. It's a story that Tom has spoken little about over the years, and over the next week tensions and unspoken secrets come to the fore as revelations and suspicion grip this long married couple.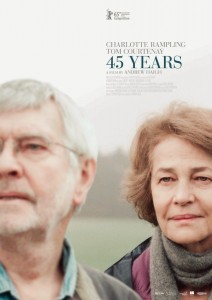 Based on the short story 'In Another Country', this second feature from Andrew Haigh – after 2011's acclaimed Weekend – is quite simply the kind of cinema going experience that cinephiles watch films for. Haigh has made the kind of genuinely intriguing drama that grips from the opening moments to the incredible final scene. His direction is an exercise is subtlety, presenting the lives of this couple with all its faults and failings but still showing all the beauty that still comes from being together for such a long time. The cinematography by Lol Crawley is excellent, with beautiful long patient takes which give the performances room to breathe and which capture this picturesque part of England wonderfully.
Haigh has coaxed two astonishingly good performances out of his leading duo who are close to British acting royalty. Tom Courtney is amazing with a character that would normally be the villain of the piece. But there are no villains in the world of this film, simply people trying their best to figure things out. Because she had been under the ice for so long, Katya's body hasn't aged a day, putting Geoff in the strange position where the girl with which he first tasted love still looks as youthful as the day she died, while he has become a wrinkled melancholy old man. The true knockout is Charlotte Rampling upon whose shoulders the film rests and she delivers. The minute changes that cross her face can change the whole mood of a scene. She is the reason that there seems to be such a deep well of complexity to the film; the sense that it's all the more fascinating because of what isn't being said rather than what is. For example, at one point Kate is seen reading a biography of the city of Jerusalem which illustrates subtlety yet perfectly the idea of the past's influence of the present no matter how long ago it was. Rampling fully deserves the nomination for Best Actress even though she won't get it because of those comments.
There's so many little touches that upon reflection become significant, like how one pivotal scene that takes place in an attic completely changes the reading into why this couple never had children. This is the kind of patient and subtle cinema made for adults that comes along far too rarely. 45 Years is incredible.
45 Years is in cinemas from 18th February through Madman Films.