Screening as part of the Transitions Film Festival, The Price We Pay is a documentary about the way big business manages to avoid tax using offshore investments. Directed by Harold Crooks, this documentary is effective in its simplicity. By letting the experts do the talking, the viewer gets an excellent grasp of the topic – and problem – at hand.
It is truly frightening to discover the trillions of dollars which are being stored in offshore accounts, mostly by multinational companies, and courtesy of tax law which permits the various loopholes. One interviewee aptly points out, "Why bother being illegal?". It seems there are plenty of ways to avoid tax without breaching any regulations.
To illuminate this fascinating and troubling investigation, Crooks gathers together a collection of experts ranging from former insiders to tax justice advocates. Their authority in their various fields serves to give a sense of credibility to the story they are piecing together. Indeed, the evidence seems overwhelming.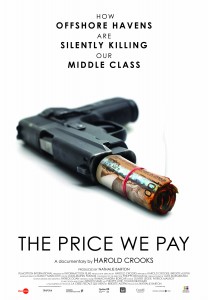 Post World War Two saw the rise of the tax haven, thanks to various deregulations on the part of the Bank of England. Initially found in the Cayman Islands and the Bahamas, soon the havens spread to other locations. Provided a large corporation can establish an office, or at the very least a mailing address, in these locations, they can enjoy the privileges of a minimal tax bill.
Much of the information which comprises this film is quite overwhelming; it is dense and one might require a finance degree to fully understand the details. But the bigger picture is sickening enough. According to the experts interviewed here, somewhere around seventy five per cent of the profits made by multinational companies are sitting in 'cloud' like accounts, untouchable by current tax law. Big business seeks out sites where they can effectively pay the most minimal amount of tax, a practice which a British MP says might not be illegal, "but is certainly immoral".
This is a very compelling documentary. High end production values and a simple and elegant presentation makes this film all the more convincing, as there are no 'bells and whistles', no gimmicks to detract from the terrifying reality it depicts. With the attention the Occupy movement is trying to bring to the 'ninety nine per cent', this documentary is timely and necessary. Paired with other recent documentaries of a similar nature – The Yes Men Are Revolting and Russell Brand's The Emperor's New Clothes spring to mind – this makes for a very troubling outlook.
The Price we Pay screens as part of the Transitions Film Festival at Cinema Nova from 18th February to 3rd March.