The Oscars are almost in session, and we Australians know all too well what that means: February film releases. The highly-acclaimed Brooklyn arrives on our shores with three Academy Award nominations and a plethora of placings on critic top 10 lists. But those who have been waiting four months for its release shouldn't be expecting a classic.
John Crowley's Brooklyn is a nice film, but one light on both narrative and drama. Indeed, its basic storyline could well be condensed into a 10-minute short film. While such an exercise would increase efficiency, it would be a disservice to leading lady Saoirse Ronan and screenwriter Nick Hornby, who both work hard to justify the 112-minute duration. Ronan might not be as flashy as her fellow Best Actress nominees Jennifer Lawrence or Cate Blanchett, but is just as wonderful to watch. Likewise, Hornby seasons the plot with just enough humour and emotion to keep the audience engaged.
Eilis (Ronan) is a shy Irish girl who moves to New York where she knows nobody. She commences the film homesick and out of her depth, but grows in confidence as her new home becomes increasingly familiar. Her default poker face is broken by the earnest Tony (Emory Cohen), an unlikely but worthy recipient of Eilis' love.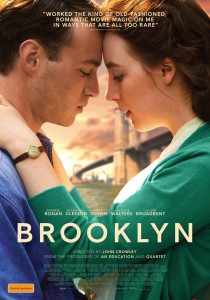 While Act 1 is dedicated to everybody who's ever been homesick, Act 2 is one for the lovers; Eilis and Tony share a beautiful chemistry that makes us fall for them both. The third and final act – set in Enniscorthy, Ireland – is where the conflict begins. And while this section may resonate with those who have been torn between two homes, its impact is compromised by the micro scale of the key crisis. Those who can identify with Eilis' plight may leave the cinema in tears, however the big-picture thinkers in the room may find themselves frustrated by the heavy weight assigned to the film's most critical juncture.
For those who walk away satisfied, Brooklyn's appeal is in its subtlety. Rather than relying on dramatic moments or laugh-out-loud punchlines, it maintains intrigue through well-developed characters and relatable dialogue. The gossipy townsfolk of Enniscorthy are nosey, but ripe with good intentions, while Tony's colourful Italian household are worthy of their own spin-off. Ironically, the dullest characters are Eilis' youthful housemates at her Brooklyn boarding house; while fashionable and flirtatious, their vanity only serves to punctuate Eilis' virtuosity.
Just as subtle are the shifts in colour and costuming; these elements play a pivotal role in setting the tone of each scene and depicting Eilis' emotional journey. The scenes are pale in Eilis' moments of loneliness, while her highest points are painted with the warm tones of New York nightlife.
For all the brilliant acting and aesthetic fine-tuning though, the story behind Brooklyn is relatively dull. And while it's the kind of film your mum would watch a million times, one senses that the talented cast and crew behind Brooklyn may fall a few plot points short of a Best Picture Oscar.
Brooklyn is in cinemas from 11th February through Transmission.