Sicario (Spanish for 'hitman') is another slow-burn, tension-filled thriller for director Denis Villeneuve. Following in the footsteps of the simmering, morally ambivalent Prisoners, the film is a dark, measured portrayal of the war against drugs over the US-Mexico border. All of the film's elements are masterfully marshalled to create a brooding atmosphere that never lets up: Taylor Sheridan's screenplay exercises a tight grip on the plot, Jóhann Jóhannsson's pounding score evokes a relentless dread, and Roger Deakins' cinematography dispassionately views the scenery, whether capturing decapitated bodies hanging from highways or the seemingly endless desert expanses of Mexico. Together with a trio of fine performances, Sicario is an unqualified triumph, and affirms Villeneuve, whose is slated to direct the Blade Runner sequel, as a director of control and substance.
The film begins with FBI SWAT team member Kate Macer (Emily Blunt) raiding a house in suburban Arizona. What the team find waiting for them are corpses encased within walls and a hidden bomb. Horrified and aghast, but spurred to take action on a larger scale, she agrees to join Matt Graver's (Josh Brolin) CIA Special Activities Division to find the men responsible, the ones who control and dictate the terms of the drug war. However, it gradually becomes apparent that Kate's 'role' in the operation is vague at best. Compounding her confusion is Alejandro Gillick (Benicio del Toro), whose equally ambiguous presence seems at odds with his oddly assured and nonchalant demeanour. As the mission unfolds she is dragged irresistibly, helplessly along, and witnesses boundaries on several levels – geographical, moral, ethical – being wilfully transgressed.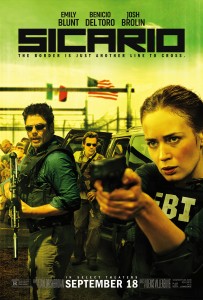 The film excels at sustaining a relentless mood of foreboding throughout, due in large part to Villeneuve's exacting vision. Each of the film's individual elements is impressive by themselves but together they work seamlessly. Several masterful sequences are executed with incredible restraint and patience and lensed with precision, effectively complemented by a thumping, insistent score.
Furthermore, the performances are all solid. Brolin and del Toro make an interesting contrast in conveying clandestine; Brolin's relaxed, almost condescending air is juxtaposed with del Toro's mysterious sense of purpose, which is only revealed in the film's final chapters. However, Sheridan's tautly written and highly controlled screenplay focus on Kate's experiences which end up mirroring the audience's; in depriving Kate of all the details we share and empathize with her frustration and bewilderment. Blunt is simply fantastic in one of her more dramatic roles, never overplaying her confusion and remaining acutely aware of her increasingly fragile and anxious emotional state. By the film's end, it is Kate's sobering awareness of the situation, and Alejandro's complete control of it, which make the film's uneasy morality so resonant, confronting and unnerving.
Sicario is released on DVD 27th January through Roadshow Films.