Taking the now common route of casting a male in the role of Lady Bracknell, Adrian Noble directs his own version of Oscar Wilde's The Importance of Being Earnest. The play is a satire of Victorian era manners and etiquette, trivialising social conventions, marriage in particular. Popular for many years, The Importance of Being Earnest is hilariously funny and an astute observation of human nature.
The play opens in the home of Algernon Moncrieff (Philip Cumbus), who is about to receive his best friend – a man he knows as Earnest, but who is in fact John Worthing (Michael Benz). With Algernon's aunt, The Lady Bracknell (David Suchet) due to arrive with her daughter Gwendolen (Emily Barber) momentarily, John must confess that he is not who he says he is. His explanation for his act of fraud is that he needs a false identity to use to misbehave without damaging his own reputation. The jovial Algy takes this deception very well, for he himself has invented a friend of the name of Bunbury for the same purpose. When John declares that he intends to propose marriage to Gwendolen, his dilemma is presented as he must somehow do away with Earnest.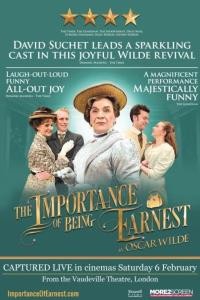 Unfortunately for John, Gwendolen has a fondness for Earnest with special affection for his name. When John returns to his country home, he is determined to be baptised as Earnest to save his future with his intended. Meanwhile, Algy sees an opportunity to sneak away from town to visit John's country home and meet his young charge Cecily (Imogen Doel). Posing as the fictitious Earnest, Algy proceeds to fall for and propose to Cecily. He too must now be baptised, as Cecily has long harboured the desire to marry the man she has known as Earnest, despite never having previously met him. To add to John and Algy's woes, they must contend with Lady Bracknell and her inferences and condescension.
While The Importance of Being Earnest is a wonderfully written and insightful play, this rendition is a little disappointing. Where the effort to bring theatre to a film audience has been successful in the past, this one falls flat. A Streetcar Named Desire and The Bridge were modernised and edgy (for want of a less overly used expression) and their adaptations generally lent more favourably to the cinema experience. With the more classical and period set plays there seems to be a loss of atmosphere.
David Suchet, better known as Poirot, is somewhat wasted in this role and the casting overall seems a little off key. The standout is Imogen Doel as Cecily; she is funny and cute and her interactions lift other performances. This is an especially long screening, with two intermissions courtesy of the three acts of the play. The second and third acts are certainly an improvement on the first act; it seems like it takes a while for this lot to warm up.
Having seen this play in the live theatre format, well cast and vibrant, it is fair to say that this cinematic experience is mostly discouraging. The 2002 film version of The Importance of Being Earnest starring Rupert Everett and Judi Dench is also superior, although obviously very different. There are good film and theatre adaptations of this play, and this version is an unfortunately dull exercise.
National Theatre Live: The Importance of Being Earnest is in cinemas from 6th February through Sharmill Films.