It's that time again. Time for another Nicholas Sparks film adaptation. The tropes come out, women cry, money is made. With The Choice Ross Katz directs only his second feature film, though it still manages to look the same as all the other cloying Sparks films that have come before.
Moving to a quiet area of town in North Carolina to focus on her medical studies, Gabby (Teresa Palmer) finds herself living next door to veterinarian Travis (Benjamin Walker). After realising that her dog is pregnant and suspecting it's thanks to Travis' own uncontrollable mutt, she goes over to give him a piece of her mind. Sparks fly and Gabby tries her hardest to act mighty pissed off even though she's clearly this close to tearing off his clothes and having him right there and then. They bond further after she sees him lie to a child about a dead lizard, and are soon dishing out the cute banter. Her boyfriend Ryan (Tom Welling), away on a business trip for a few weeks, is quickly forgotten about as she flirts outrageously with Travis and they get it on in the kitchen (you know the drill: heavy panting, doing it on a table because the bedroom is obviously too far, shadows fall so that you can barely see a thing). Ryan returns, she's so confused, blah, relationship, blah, marriage, kids, car accident, coma, THE CHOICE: turn off her life support or hope for a miracle? (This is all in the trailer, but it hardly makes sense to complain given the predictability of Sparks' plots).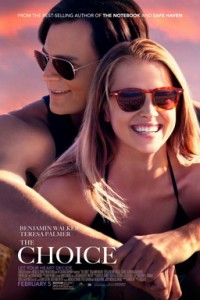 The script is awkward to say the least. Screenwriter Bryan Sipe doesn't seem to improve upon the source material. "I believe in the moon and the stars" says Gabby as they gaze up into the cosmos. "Come bother me" says Travis as he begs her to wake up from her coma. Excuse me while I gag. Their early banter tries too hard to be adorable, instead sounding forced and unrealistic. And it's difficult to be in Gabby's corner when she seems to be lacking a moral compass. The morning after their first night together she walks around in a blissful trance until she listens to a voice message from her boyfriend. Oh yeah, he still exists. It's as if she'd completely forgotten. And then later on she can't decide who she wants to be with? I'm not buying it. The timeline doesn't quite make sense either – she has kids who look way older than they are meant to be, meanwhile she and Travis don't seem to have aged a day.
Despite her problematic character, Teresa Palmer (2:37, Wish You Were Here) is undeniably gorgeous and a vast improvement on her predecessor, Britt Robertson (The Longest Ride) on the charisma front. The Aussie actress is slowly but surely carving out a successful Hollywood career, but hopefully isn't ruining her credibility with these sorts of sappy choices. Benjamin Walker is perhaps the only element of the film that isn't classic Sparks, in that he isn't the usual eye candy that is offered up. He still has the southern twang, but unfortunately when coupled with the terrible dialogue it's rather cringeworthy. Maggie Grace as Travis' sister Stephanie does her best despite a bad wig, meanwhile Alexandra Daddario and Tom Welling fade into the background in undeveloped roles. Who knows what the great Tom Wilkinson (as Travis' father) is doing wasting his time here.
For the most part, The Choice has all the hallmarks of a Sparks film: lovers caught in the rain, lovers looking up at the sky, lovers making carefully concealed love. And we all know how it's going to end. I spent the first three quarters of this film rolling my eyes at its inferiority as a piece of filmmaking, but then in the final act it damn well got me. I tried to hide my tears but I failed. DAMN YOU NICHOLAS SPARKS AND YOUR EMOTIONAL MANIPULATION! And so, despite its flaws, The Choice got the job done. If you're a sucker for a tearjerker, it's time to get sucked in again.
The Choice is in cinemas from 4th February through Roadshow Films.