If you can handle the dirty jokes and don't mind a pretty basic raunch comedy then Dirty Grandpa is for you. Directed by Dan Mazer, a frequent collaborator with Sacha Baron Cohen, the film is pretty low brow but certainly entertaining.
Robert De Niro is Dick Kelly, recently widowed after forty odd years of marriage. When Dick decides he wants to head to the family holiday house straight after the funeral, he insists that his grandson Jason (Zac Efron) accompany him. Dick and Jason have drifted apart as Jason has grown up, with Jason now a corporate lawyer in his dad's firm. Jason is reluctant to take the trip as he is due to be married in just a week, a fact his overly demanding fiancée Meredith (Julianne Hough) continuously points out.
The trip appears to be doomed from the start when Jason arrives to collect his grandpa bearing a model train – a reference to the hobby they shared when Jason was younger. Dick's interest in model building seems to have waned, with a new inclination uncovered when Jason walks in on his grandpa masturbating to porn. Dick is unconcerned by being sprung, knocks back a few stiff drinks and is ready to roll.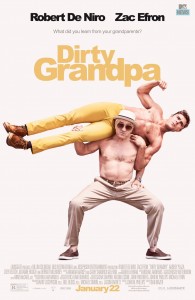 En route to Florida and the holiday house, Jason and Dick encounter Jason's former college classmate Shadia (Zoey Deutch). Shadia and her two friends are heading to Daytona Beach and invite Dick and Jason to meet them there. Shadia's expressive and adventurous mate Lenore (Aubrey Plaza) is quite keen on Dick and Dick sees the chance to recapture some lost youth with this college graduate. Dick insists on the detour, manipulating Jason by telling him it is what his grandma would have wanted.
Once in Daytona Jason is in endless trouble, mostly thanks to Dick's manipulations. Jason has his drink spiked (by Dick), smokes crack, dances naked at a college party, steals a motorbike and eventually wakes up on the beach where he is falsely arrested for child molestation. As if the situation couldn't get any worse, it certainly has to as the film is only half way through.
Somewhere at the heart of this film, buried under some dick jokes, is a message of following one's dreams. Dick has gone to great lengths to point out to his grandson that his life is about pleasing everyone other than himself. Jason lives his life under instruction from his father and his fiancée without ever asking himself what he really wants. Dick pushes his grandson in a rather unconventional fashion, but in the hope that Jason will take charge and follow his dreams.
Zac Efron gives a solid performance as Jason; he actually brings some class to the film, albeit in very tight, mustard trousers. He has good comic timing and is proving to be a very impressive actor. Aubrey Plaza is great, her dead-pan manner is a perfect counter to De Niro and she is one of the best aspects of the film.
Dirty Grandpa is mostly funny at the time, but also quite forgettable. As with a lot of films in this raunch comedy style, the homophobia, casual racism and misogyny are rampant. But to counter that, De Niro forms the butt of the joke as the dirty old white guy.
Dirty Grandpa is in cinemas from 28th January through Entertainment One.