The inner workings of a child's mind can be difficult for adults to conceptualise, even with all that is known of developmental psychology. This becomes all the more difficult when creating characters who are outside the developmental norm, whether this is due to genetic or environmental differences. And yet, a handful of authors have been able to successfully channel these young individuals, with Emma Donoghue, author of Room, among them. Her novel is written from the perspective of five-year old Jack, who lives with his Ma in what is simply named 'Room'. Having never seen the outside world, his experience of his limited surroundings and his understanding of what is beyond them is fascinating subject matter.
The translation of such a text to the screen is a difficult task, but Donoghue's adapted screenplay retains the charm of her novel, with young Jacob Tremblay bringing Jack to life to mesmerising effect. Voice-over is used to let the audience in on Jack's internal experiences, and Tremblay's physicality is simply incredible for an actor of his young age. Donoghue's screenplay explores not only Jack's limited worldview, but also his malleability. It demonstrates that even without so many of the things we take for granted – opportunities for socialisation, for example – he is a typical five-year old in many ways.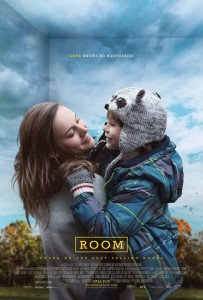 Jack's resilience and knowledge is clearly imparted on him by his Ma (Brie Larson), and Room portrays a beautiful and touching mother-son relationship, with a core message about being strong for one another. Ma is afforded more depth here than she probably was in the novel; even though the film is still meant to be through Jack's eyes, Larson embodies a character that the audience can read further into. The effects of trauma are front and centre, and there is a stark contrast between Ma, who knows the cruelties of the world and regularly puts on a brave face to protect her son, and Jack, an innocent child who has been shielded from the grim reality, and who is – thankfully – probably too young to feel such lasting effects. Brie Larson is compelling as the young mother, further proving her prowess as a dramatic actress after various bouts in comedic roles. She is tipped to take the Oscar for this role next month.
The structure of the film may come as a surprise to those unaware of the unfolding events (however, the film's marketing has been open about this – if you want absolutely no spoilers do not watch the trailer). Extended time is given to events that would usually be rushed through in a film's finale, and these end up being the film's focus. This gives Room an edge, and the overly informative marketing was supposedly deliberate for this reason. It's possible some may find fault with a major event that pushes the narrative forward, but they would most likely be missing the point of what this film is truly meant to be about – it's NOT about this event. It's furthermore unsurprising that the novel's story had to be condensed for film, and to fault it on this seems unfair. Donoghue and director Lenny Abrahamson have created a thoroughly rich and engrossing portrayal of a mother and child in complex circumstances. Make room for this one in your calendars.
Room is in cinemas from 28th January through Roadshow Films.