Looking for Grace is the latest feature from Australian filmmaker Sue Brooks. It begins with adolescent Grace (Odessa Young) travelling with her friend Sappho (Kenya Pearson) through the middle of the outback on a bus. After Grace is courted by fellow traveler Jamie (Harry Richardson), things begin to sizzle and Sappho, feeling alienated, returns home. A passionate night between the pair ensues and Grace awakens, stranded, alone and moneyless. Seeking shelter in a barn and nestling in a car for the night she begins the long trudge home. She is found shortly after by her parents and the movie changes gears into a retelling from Grace's mother's and father's perspectives.
Beginning slowly and shot beautifully, the film loses any momentum and intent it had mustered. Told in several chapters, a large chunk of the film is devoted to the perspectives of Grace's mother (Radha Mitchell) and father (Richard Roxburgh). The two have a somewhat comedic repertoire and both interact with various people in scenarios leading up to pursuing their missing daughter. Beginning with the mother's viewpoint, she comes home one day and finds the family safe empty and is informed by her husband thousands of dollars are missing with their daughter. Rather than decide to move actively forward, Brooks decides that plot is impertinent and begins to shape a background around the parents. One of the more gripping scenes that follows is a confrontation mum Denise has with her carpet cleaners, arguing over the quote. Things don't get better.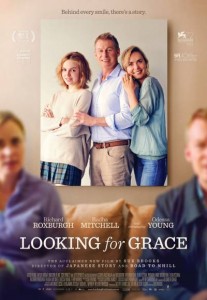 The duality of the title, Looking for Grace, is nonexistent. No characters were pursuing grace in a decorum sense, nor was any grace of god evident. Quite bluntly it refers to parents tracking their daughter down. However, the title is still a misnomer as most of the film isn't about that at all! Waiting for something interesting or noteworthy to occur results in exasperation at every scene. The most interesting journey is definitely Grace's and it's a pity the film doesn't revolve around her. The exquisite cinematography of the outback and tiny towns reverberate satisfyingly to the Australian mentality, punctuated with crow caws during the rural gloaming. It sure beats the ad nauseam of her parents' suburban life.
The film contains an asinine use of Chekov's gun, the first glimpse of which has zero bearing or relationship to the movie whatsoever. The dramatic conclusion to the film would have been gripping, but given the emotional detachment the film's camera has to the actors it simply washes over the viewer blankly.  Looking for Grace is like one long extended REM music video, but instead of the wonderful sounds of Michael Stipe, we have aimless dialogue. At best the film attempts to uncover the minutiae of life, at worst it is artistic tripe.
Looking for Grace is in cinemas from 26th January through Palace Films.