Something smells like Oscar bait. Or maybe it's just Tom Hooper. The Danish Girl has more than a whiff of Hooper's usual winning formula which has previously resulted in Oscar glory for The King's Speech (which won awards for best picture, director, original screenplay, and actor), and Les Misérables (wins in smaller categories, with further nominations including best picture). His latest effort is arguably of the same quality, however Hooper and the film have missed out on directing and picture nominations this year. Is that because the Academy know his game all too well now, or because they aren't sold on the subject matter?
Based on a fictionalised account by David Ebershoff of the life of Lili Elbe, The Danish Girl begins with Einar (Eddie Redmayne) and Gerda (Alicia Vikander) Wegener, a married couple living a bohemian lifestyle as artists in 1920s Copenhagen. After Gerda asks Einar to stand in for a female model, her popularity as an artist soars, and Einar continues to pose as a woman for her portraits. Finding a deep connection with the feminine, Einar begins to live as a woman, Lili Elbe, and with the support of Gerda becomes the first recipient of male to female sex reassignment surgery.
The film looks exquisite in every way. The production design is lush, from the Danish landscapes to the interior spaces that make up the Wegeners' bohemia. As cinematographer, Danny Cohen utilises his trademark off-centre character shots, capturing the beauty of the two leading characters, who are all the more resplendent in Paco Delgado's costumes. The visuals are accompanied by a sumptuous score by Alexandre Desplat, which will either tug at the heartstrings or induce eye-rolls, depending on how classic Oscar bait sits with you.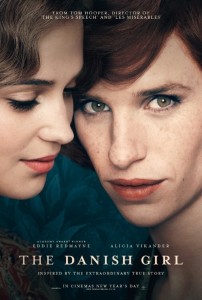 The film's somewhat controversial subject matter (at least for those still living with outdated values) makes it somewhat more difficult to predict how it will be received by general audiences. Given its big names in both acting and directing, The Danish Girl will hopefully act as a positive step in understanding of transgender issues, however this may be partly hampered by the backlash against the casting of a cisgender/non-transgender actor in the role of Lili Elbe. Some have argued that The Danish Girl wasted an opportunity to cast a real transgender woman, though most likely the pool of talented transgender actresses willing to play both male and female identities is small. Redmayne's casting is surely preferable to that of Nicole Kidman, who years ago when she was set to produce the film had cast herself as Einar/Lili. Redmayne is exceptional in the role, proving yet again his transformative acting abilities. If he hadn't just won the Oscar last year (for his role as Stephen Hawking in The Theory of Everything) he probably would this year.
Alicia Vikander, favourite to take Best Supporting Actress for her portrayal of Gerda, continues her ascent as a force to be reckoned with, following on from terrific performances in Ex Machina, Testament of Youth, and A Royal Affair. As Gerda she portrays a fierce ally and one of the stronger female roles you are likely to see for the time period in which the film is set. Amber Heard, as Gerda's ballerina friend Oola, lights up the screen in her fleeting screen time, although her accent leaves much to be desired. Matthias Schoenaerts as Hans Axgil, a friend to the couple, is probably one of the most underrated actors in current cinema. His range of roles in the last two years alone is vast, and it is most likely his lack of showiness that sees him to continue to fly under the radar. Ben Whishaw pops up yet again (following roles in recent releases Spectre, In the Heart of the Sea, and Suffragette) as Henrik, a love interest for Lili, and the same could be said for him. Don't underestimate these supporting gems.
The whole film screams OSCAR, and one has to wonder whether its attempts to gain buzz during awards season are too obvious for its own good. However, there's no denying this is a near faultless film. Lucinda Coxon's adapted screenplay is compelling; its only weakness is its pacing, with the story moving ever so slowly towards its conclusion. Susceptible audiences may leave this one with tears streaming down their faces, but they should know they've been had. This is Oscar bait 101. But if exaggerated drama shrouded in beauty is what you're after in a January release, don't let the cynics ruin it for you.
The Danish Girl is in cinemas from 21st January through Universal Pictures.