Tina Fey. Amy Poehler. Those two factors alone are usually enough. For anything. Be it separately or together. Be it in a series of memorable Saturday Night Live impersonations that go viral, or hosting an awards event with sharp and witty observations about Hollywood and feminism, or starring in an instantly classic and long-running television sitcom. This time, the dynamic duo appear on the big screen, and thankfully, there is more to enjoy than just Fey and Poehler in Sisters.
Unsurprisingly, Fey and Poehler plays sisters. Upon the sale of their childhood home, Bucky and Deana Ellis (James Brolin and Dianne Wiest) ask their daughters Kate (Fey) and Maura (Poehler), now in their 40s, to come and collect the items from their shared childhood bedroom. While reliving memories of their faded youth and legendary high school parties, the pair decide to hold one last hurrah before the house is sold. Kate's one condition for Maura is that she lets loose and goes wild, unlike her restrained attempts in high school. Maura's condition for Kate is that she remains sober, unlike her unpredictable, party-girl past.
Continuing in the tradition of Bridesmaids and Trainwreck (words that feel strange to write considering these two films were made within the last five years), Sisters has wide audience appeal, even if the film was released on the same day in the US as the new Star Wars film, a move that seemed advantageous when marketing to a predominantly female audience.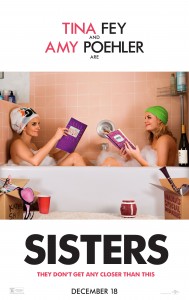 Sisters marks the first big screen re-teaming of Fey and Poehler since 2008's Baby Mama. Once again the two comediennes, both known for their writing talents as well as their larger-than-life characters, appear as actors and producers without a writing credit  (though a certain level of improvisational input seems highly likely). Pitch Perfect director Jason Moore is at the helm of Sisters, with a screenplay from long-time SNL and 30 Rock writer Paula Pell. The two do a fine job in providing a vehicle for their leading ladies to portray two-dimensional characters in the space of a mainstream comedic film.
Maura (Poehler) is the perennially responsible and reliable sister who is recently divorced, holds a steady job and keeps frequent and friendly communication with her parents who live interstate. Kate (Fey) is the unsettled and irresponsible sister who works pay-check to pay-check in dead-end service jobs, much to the dismay of her teenage daughter Haley (Madison Davenport). The two sisters are yin and yang, light and dark, day and night; complete opposites and yet pleasantly complementary. These traits establish each character to embody comedic range from unrestrained to unwavering. And both Fey and Poehler are truly wonderful in these roles. Their presence brightens up any scene and the two play their characters with a certain level of unpredictability, resulting in many unexpected and hysterical moments.
Sisters also pays an indirect ode to body-swapping films such as Freaky Friday and Heaven Can Wait. Each sister challenges the other to be the opposite of their teenage self. Transformation by means of stepping in someone else's shoes is a theme very much at play, albeit without some strange incident that forces an actual body switch. Naturally, this allows the two characters to gain insights into the other sister and themselves, resulting in a much required personal awakening.
Constantly hysterical one-liners and strong comedic performances elevates Sisters higher than the usual mainstream comedic films offered at the multiplex. The supporting players must also be mentioned with a brilliant offering that includes Ike Barinholtz (as Poehler's refreshing love interest), John Cena, John Leguizamo, Rachael Dratch, Bobby Monihan, Kate McKinnon, Samantha Bee, Chris Parnell and the standout/best-in-show/scene stealer Maya Rudolph as Kate's high school nemesis. While it may not reach the levels of unexpected poignancy that Bridesmaids reached a few years ago, it is still an enjoyable two hours full of laughs.
Sisters is in Australian cinemas from 7th January through Universal Pictures.