The Bélier Family is a fairly typical take on the family drama, with one rather interesting twist. With the exception of teen daughter Paula (Louane Emera), the members of the Bélier family are all deaf. This curious twist makes for a funny and very warm film.
Paula is the teenage daughter of Rodolphe (François Damiens) and Gigi (Karin Viard), and big sister to Quentin (Luca Gelberg). The family live on a farm in rural France, and they make cheese which they sell at local markets on the weekends. As the entire family bar Paula is deaf, they rely on Paula to interpret and communicate where they are unable.
Paula is rather lacking in self-confidence, shy about boys at school, and not quite as sophisticated as some of her peers. She finds herself joining the school choir when she sees Parisian boy Gabriel (Ilian Bergala) will be there, his brooding good looks having captured her attention. Together with her friend Mathilde (Roxane Duran), Paula expects she will enjoy a pretty lightweight class. Unexpectedly, Paula has a beautiful voice. Her teacher picks this up and suggests that she audition for a top music conservatory in Paris.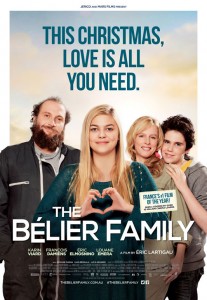 While Paula is interested in the prospect of moving to Paris, she soon comes to realise it may be impossible. Her family are so reliant on her to communicate and assist them with the farm, especially as her father has decided to run for mayor. Their blissful ignorance to Paula's talent and her desire for independence cannot last forever.
What is most gorgeous about The Bélier Family is the frankness with which the family life is portrayed. Rodolphe, Gigi, and Quentin are vibrant and expressive, and their quirky ways of surviving in a silent world prove to be very entertaining. But more than just that, the family are candid and open in a way not often seen on the screen. When Paula has Gabriel visit the family home to practice a duet they are to sing at the school concert, the family openly 'discuss' via sign language the state of Paula's virginity and if this boy will be the one to 'pop her cherry' (Rodolphe's expression). Rodolphe and Gigi are demonstrative in their affection and their healthy sex life is no secret from Paula and Quentin, the family doctor, or guests to the family home. In addition to the sincerity of the Belier family is their general enthusiasm. When the goofy Rodolphe signs the family up to run for mayor, he quickly garners support from the local community who are charmed by his animation and passion.
The Bélier Family is essentially a story of a young woman outgrowing her small town existence and needing to follow her talent and dreams. While this is a common enough tale, this film is something special in the way it realises this account. Audiences will need to be quite cold hearted not to be warmed, and perhaps even close to a tear, watching The Bélier Family.
The Bélier Family is in cinemas from 26th December through Palace Films.