There's little better advertising for the writing of a character and an actor's performance than being happy to watch them do almost nothing, making a narrative drive to the film nearly inconsequential. From Half Nelson writers and directors Anna Bowden and Ryan Fleck, Mississippi Grind has a loose road trip framework that gives us the chance to hang out with Ryan Reynolds' Curtis and Ben Mendelsohn's Gerry. They're two complex, layered characters whose chemistry is so great that you could just watch them talk, drink, and play darts together for hours.
In a small town in Iowa, Gerry, a quiet, thoughtful-looking guy is playing poker in a dimly lit room when the slick, handsome and charming Curtis walks in. The two are soon drinking together in a nearby bar and quickly become fast friends – Gerry comes alive with Curtis, his downcast mumbling replaced with a wiry electricity. Curtis is soon bankrolling Gerry as they gamble cross-country to a high-stakes poker game in New Orleans. The film harks back to the buddy movies of the 1970s (hinted at by the opening titles' 70s font), and you expect Reynolds' character to be bad news for Gerry, the one to lead him astray. Instead Curtis is more like Gerry's mentor, trying to help his (older) protegé onto the right path, but it's a friendship that seems to encourage the worst tendencies in both of them.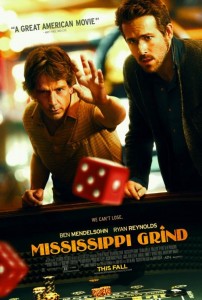 Reynolds is at his absolute best here, hinting at and slowly revealing many levels beneath his slick exterior. Curtis is attracted to the gambling world, the life of a casino jumper, because it keeps him from responsibility and lets him keep moving while going nowhere. Also going nowhere in his life is Gerry, because he can't stop gambling and it has brought him almost to rock bottom – leaving him without his family and owing money all over town. Mendelsohn gets the shot at the leading performance he's deserved after excelling in smaller parts in Hollywood over the last five years, and he nails it. His Gerry is a sad-sack, hapless but also destructive, manipulative, a liar, and a thief. And yet you cannot help but root for him as he aims for redemption and gambles everything he has left of his life.
Bowden and Fleck give this study of character and friendship a lived-in, comfortable feel, and parcel out character and motivation in small details and unexpected moments. Their use of close focus on the actors' faces makes these characters feel like our whole world and lets us closely see the feelings and thoughts behind their expressions. Alongside the smart casting of the leads, Sienna Miller (American Sniper) does solid work as Curtis' sort-of girlfriend, and Alfre Woodard (12 Years a Slave) is inspired in a short cameo as a local loan shark. The main flaw comes with it not knowing how to end, and in trying to decide whether to go for a traditional ending or not it feels like it just cycles through the options. But as Curtis is fond of saying, 'the journey is the destination'.
Mississippi Grind is in cinemas from 10th December through Madman Pictures.