Written, directed and starring Angelina Jolie-Pitt, By the Sea is an examination of a couple in a relationship crisis. Paired on screen with her own husband Brad Pitt, Jolie-Pitt attempts an exposition of a couple lost at sea in their relationship, drowning in some form of inexplicable misery.
Vanessa (Jolie-Pitt) and Roland (Pitt) have headed to the French seaside; they tell local restaurateur Michel (Niels Arestrup) that they are trying to get away. As the film progresses it becomes clear that their marriage is unstable, that Vanessa and Roland are turning to prescription medication and liquor for comfort and support, rather than turning to each other. It is clear the couple have suffered some trauma or loss, but neither is prepared to communicate much with each other and so the audience is left in the dark too.
In their hotel perched above the rocky coast, Vanessa hides in their room. Roland frequents the local café; his intention is to write but he mostly chats and drinks with the locals. The couple gradually become more estranged; occasionally they argue but this always results in Vanessa taking pills and sleeping her way through the possibility of further confrontation. When a newlywed couple (Mélanie Laurent and Melvil Poupaud) move into the adjoining room, Vanessa begins to spy on them through a hole in the wall. Soon Roland joins Vanessa and it seems that their voyeurism will bond them again and rekindle their romance.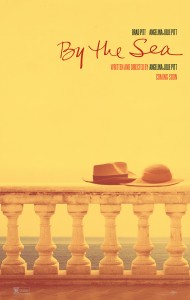 The film is staged in three acts. The first is Roland and Vanessa's estrangement, followed by their new interest in spying on their neighbours. The third is what results from their voyeurism. The first act is overly extended, taking far too long to establish what is obvious from the outset; this is a troubled marriage between two desperately unhappy people. The second and third acts should comprise the majority of the film, yet they are rushed through quite quickly by comparison.
By the Sea is very classically European in its cinematography and editing. There are hints of Michelangelo Antonioni in the visual styling, the overall look of the film being very luscious and rich.  Costuming, hair and makeup – particularly Jolie-Pitt's fascinating eyelashes – are gorgeous, recreating a luxe 1970s style which is bathed in a warm glow. The narrative is quite reminiscent of a Daphne Du Maurier story, cryptic and somewhat otherworldly. But the mystery is too obscure. This film, while visually stunning, is simply too abstruse.
This film relies heavily on the experience of Jolie-Pitt and Pitt as actors. They both know what to do in front of the camera, and they deliver. Pitt is especially good – Roland's tenderness for Vanessa, despite the friction in their marriage, is palpable. Pitt becomes more and more disheveled and aged as Roland's agony over his marriage is revealed, but then seems to imbibe youth as he becomes closer to his wife. Jolie-Pitt embraces the broken woman she has written and directed for herself, and it can only be assumed than Vanessa is drawn from the Jolie-Pitt's own experiences.
By the Sea has a wonderful sense of style and fabulous performances, but the inexperience of Jolie-Pitt as a writer and director is evident. She shows a great deal of directorial potential, but it is not quite realised with this film.
By the Sea is in cinemas from 26th November through Universal Pictures.