Note: This film contains traces of Adam Sandler.
I feel it's only good courtesy to point this out to anyone above the age of ten who might be tempted to see Hotel Transylvania 2. Not to belittle Sandler's achievements at all. On the contrary, he's a marvel to be forging on despite an ever-mounting string of failures (That's My Boy, Jack and Jill… I mean, what the hell?). But he is an acquired taste, which means you may either be tired or thrilled by HT2, directed by Genndy Tartakovsky and co-written by Sandler and Robert Smigel.
The mildly successful first instalment introduced the eponymous hotel, run by the vampire Dracula (voiced by Sandler) and home to a whole carnival of mythical monsters. Humans never really came into his business plan, but now with his daughter Mavis (Selena Gomez) marrying one, Jonathan (Andy Samberg), Drac's had to throw open the doors in welcome.
When the two lovebirds have a baby boy, Dennis, a friendly tug of war between the supernatural and muggle sides of the family starts, as their boy's future becomes an object of contention. The question: is he a vampire or a human? The answer will determine the new family's future.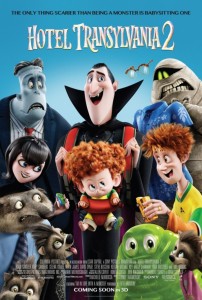 The opening thirty minutes struggle to tease out a key plot line, but when the baby arrives, things begin to pick up. Unfortunately, much of the story revolves around Dracula's attempts to harden his grandson towards a life of grisly vampirical exploits, which means that Drac is constantly transforming, dancing, flying, floating and insisting on interrupting every scene with no particular tact or wit. He really is quite an irritating presence, and I can't forgive him for one particularly horrible joke involving Bluetooth – subtlety obviously wasn't a priority.
The best gags go to the supporting cast, such as the mute green blob, Wayne the Werewolf (Steve Buscemi), and Frank (Kevin James), who are less inclined to be annoying. Jonathan's parents voiced by real-life couple Megan Mullally and Nick Offerman also offer some respite from the frenetic capers, as does the guy who runs the minimart, mainly because these guys manage to play a straight face.
With no kids present at this screening, it's hard to tell how this will be received by the demographic that counts, but it's short, colourful, lively, includes some thrills, and isn't too schmaltzy, so there's marketability there.
For me, however, this is a missed opportunity. With the gags flying thick and fast, Sandler and Smigel have thrown a bag of skittles in the air and bargained on at least of few of them being gobbled up. It's one way to feed an audience, but it's not the most filling. And in a year that brought us Inside Out, this approach presents as a stark contrast to what we now expect from animation.. Which, if Pixar is anything to go by, is a measured approach that values character development, and makes everyone feel as though their enjoyment is not contingent on these films being funny all the time. The opposite of that patience is demonstrated here.
Then again, if you're partial to a bit of Adam Sandler, then you'll probably disagree with everything I've said. And that's fine.
Hotel Transylvania will be in cinemas from 26th November through Sony Pictures