When a film can survive VCE English class and still be looked upon with fond memories you know it's something quite special. On the Waterfront is one such case – even after innumerable essays, SACs, and countless hours spent fleshing out the minutiae of character motivations and mise-en-scene, Elia Kazan's masterpiece from 1954 still holds up to this day as one of the great cinematic events of the 20th century.
Showing as part of Cinema Nova's Hollywood Retro Film Festival, presented by the matriarch of Australian screen culture Margaret Pomeranz, On the Waterfront is a crime drama crossed with a film noir that did nothing less that change the cinematic landscape. Based on a series of Pulitzer Prize winning newspaper articles about union corruption in New Jersey's Hoboken docks, the screenplay written by Budd Schulberg centres on ex-prize fighter Terry Malloy (Marlon Brando), a worker on the docks who falls under the influence of corrupt union boss Johnny Friendly (Lee J. Cobb). After a series of events that make him reconsider his allegiances and basic assumptions of life, Terry agrees to speak out against the conduct of the waterfront with the help of love interest Edie (Eva Marie Saint, in her first role) and the local priest Father Barry (Karl Malden). It's a tale that presents one of the great morality cases in cinema that the director himself faced. As Terry says at one point: "Conscience. That stuff can drive you nuts".
On the Waterfront was nominated for eleven Oscars the year it came out and ended up winning eight of them. There is not a single thing in this film that is anything less that exceptional, from the performances to the soundtrack. Eva Marie Saint made one of the best ever film debuts here, playing Edie with a grace and innocence that captivates from the first moment. In a career of iconic performances Terry Malloy might be Brando's most famous role with a character that was originally destined for Frank Sinatra. It might be the most influential piece of acting from the 20th century and in Kazan's autobiography he wrote "If there is a better performance by a man in the history of film in America, I don't know what it is" – a very big call, but it would take a rare person who has seen this film to disagree. A scene set in a taxi that takes place between Terry and his brother Charlie (Rod Steiger, giving yet another one of the film's amazing performances) provides one of the most famous lines in the history of motion pictures; as the soundtrack lulls melancholy in the background Brando shouts "You don't understand! I could have class; I could have been a contender! I could have been somebody". It remains the most powerful scene in the film, a testament to a wasted life and the one decision that changed everything.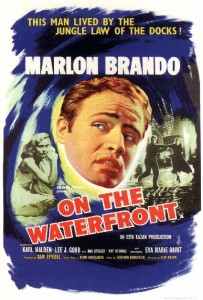 Just like all great works of art, to truly understand On the Waterfront you have to understand the culture that produced it. One of the most fascinating epochs in the history of Hollywood was taking place while On the Waterfront was taking shape. The anti-Communist witch hunts were sweeping across the USA with the House Committee on Un-American Activities (HUAC) descending over Hollywood with fervour. Anybody that was accused of being a communist or having communist sympathies was put on trial and had one of two options: 1) deny the accusations and face losing your career or even serving a prison sentence or 2) name others who might be guilty – a situation that might be familiar to anyone who has read The Crucible, as Arthur Miller was put in that exact position.
This is the situation that Elia Kazan faced, and in a decision that remains controversial to this day he decided to betray his fellow artists and name names in front of HUAC in 1952 (to see just how deeply it cut check out the video of Kazan receiving an Honorary Oscar in 1999, where many in the audience refuse to clap). This is key to On the Waterfront, as its main character stands up and rats against those he used to trust and pays a dear price for it; it essentially is Kazan's personal statement trying to justify his decision to testify before HUAC. In the climactic scene Johnny Friendly shouts "You ratted on us Terry!", to which Brando replies "I'm standing over here now. I was rattin' on myself all those years. I didn't even know it" and later screams, in a sentiment that clearly is coming directly from the mind of Kazan for all to hear: "I'm glad what I done to you. You hear that? I'm glad what I done!"
On the Waterfront is a film that lives up to the claim of being labelled a classic. It is a sublime crime-drama masterpiece and from the performances to the soundtrack to the screenplay this is everything that cinema can and should be. Every film buff should see it at least once in their life, and what better place to see it than on the big screen.
On the Waterfront is screening as part of The Hollywood Retro Film Festival at Cinema Nova. The festival runs from 26th November until 16th December.