With The Hunger Games: Mockingjay – Part 2 the popular film franchise comes to a sombre, violent end. Working with the same team from the previous film (director Francis Lawrence and screenwriters Danny Strong and Peter Craig) this final instalment follows Katniss and the rebellion as the political uprising reaches it crescendo in the Capitol. However, despite being generally solid overall, it is arguably more thought-provoking on the level of ideas than engrossing in its action sequences. Nevertheless, it is by no means disappointing, concluding one of the more successful film franchises inspired from teenage-oriented dystopia novels of the last decade.
The film resumes directly from where the previous instalment left off. Peeta (Josh Hutcherson) has just been rescued from the clutches of the Capitol, but having been tortured beyond the precipice of sanity he now thinks that Katniss (Jennifer Lawrence) is the enemy. Katniss is visibly distraught, and this is exacerbated by her conflicted feelings for both Peeta and Gale (Liam Hemsworth). Meanwhile, President Coin (Julianne Moore) and District 13 are rallying rebels from the other districts for the mounting revolution against President Snow (Donald Sutherland), with Katniss continuing her role as the inspirational Mockingjay. On the inexorable path towards a showdown, Katniss is forced to deal with the increasingly inseparable interplay between the personal and the political, all the while trying to survive whatever twisted surprises await them in the Capitol.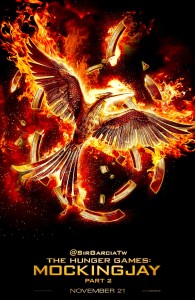 The performances remain strong in this concluding chapter. Moore and Sutherland's performances make an intriguing juxtaposition, exploring how tactical manoeuvring and political posturing is reliant just as much on manipulating perceptions as upon brute force. Hutcherson makes the most of being given more to work with in this film than in any of the previous films; his transition from being psychologically unhinged to gradually reclaiming his former identity is well-paced and moving. And Lawrence, again, demonstrates her raw, instinctual range, imbuing Katniss' politics with a weary defiance and her personal inner turmoil with a palpable ambivalence. Her scenes with Hutcherson deserve particular mention, enabling her to convey her internal turmoil with an impressive authenticity and a wounded, pent up physicality.
And yet, despite these solid performances, somehow this final instalment is not as bracing or impactful as it could have been. Arguably the film's political themes and ideas are better executed than the action sequences. Perhaps, in the transition from the viscerally survivalist spectacle that took place in confined arenas to the more media-mediated, politically charged spectacle of the revolution, the intensity levels have dropped ever so slightly; the tension in the novels is not drawn out or realised as effectively in this instalment, and the final battle scene, in particular, is a bit of a letdown. That being said, the film is still an enjoyable outing, serving as a worthy conclusion to one of the more notable franchises of recent years.
The Hunger Games: Mockingjay – Part 2 is in Australian cinemas from 19th November through Roadshow Films.