…Let me speak to the yet unknowing world
How these things came about: so shall you hear
Of carnal, bloody, and unnatural acts,
Of accidental judgments, casual slaughters,
Of deaths put on by cunning and forced cause…
Horatio, close friend and confidant of Hamlet
Hamlet has never been a cheerful affair. Arguably Shakespeare's greatest tragedy, the play is centred on the fateful machinations of the Danish royal family. It contains splashes of humour, but overall presents a cast of damaged souls brought undone by a single treacherous act of regicide. The remaining events of the play don't so much unfold as crumble, but they will ever sound as warnings against rashness, deception and vengeance. "To thine ownself be true," indeed.
Hamlet's repetition through the ages speaks to a continued dissection of a deeply introspective antihero. "To be or not to be", "What a piece of work is a man", "Alas, poor Yorick! I knew him", and the memorable line "Get thee to a nunnery!": the more this play unfolds, you realise it reads as a greatest hits of the quotable Bard.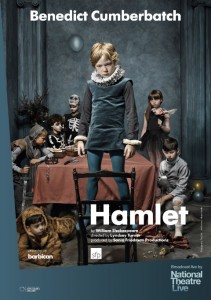 For Shakespeare admirers, the plot devices and themes are not unfamiliar either. Prior to the opening scenes, the King of Denmark, Hamlet's father, is killed and usurped by his brother, Hamlet's uncle Claudius. As if this wasn't bad enough, to Hamlet's despair, the widowed Queen Gertrude (Anastasia Hille) promptly marries Claudius within a month. Sent into a bitter languor, Hamlet is visited by the ghost of his father who bids a doubtful Hamlet to kill the one who dethroned him through "murder most foul". However, he does not do so straight away, and doubts loom as Hamlet contemplates how such a deed might reflect on him.
This is an on-edge affair, a stormily atmospheric production that by its chaos appeals for calm in an unstable modern world. It is intent on not drawing villains, but rather lamenting the foibles of humanity. Man of the moment Benedict Cumberbatch portrays Hamlet with natural aplomb in all his nobility, affection, indecision, passion, duplicity, cunning and vengefulness. It is a strong, arresting and varied performance that cements him as one of today's most exceptional talents. And to have him playing opposite someone of the quality of Ciarán Hinds as Claudius makes for an embarrassment of riches.
In a disarming opening interview with Melvyn Bragg (who incidentally discusses the lasting linguistic legacy of Shakespeare extensively in his fascinating book and television series, The Adventure of English, which is well worth a look), Cumberbatch says that there's a Hamlet in everyone. Is the Prince responsible for his actions, or is he a victim of his own grief? It is a discussion that extends not just to Hamlet but to others dealing with the death of their father, not least the children of Polonius (Jim Norton), the king's adviser; wretched Ophelia (a moving performance from Sian Brooke), Hamlet's innocent love who is manipulated, seduced, deserted and eventually driven to madness; and noble Laertes (Kobna Holdbrook-Smith), who is likewise driven to uncharacteristic deeds in the wake of Polonius's death.
Smoothly directed by Lyndsey Turner and with a dark, rich set design by Es Devlin, this production of Hamlet isn't the fastest-selling event in National Theatre history without very good reason.
Hamlet screens in selected cinemas from 7th November through Sharmill Films.