Good Aussie comedies tend to be confined to television. Think Summer Heights High, Please Like Me, Kath & Kim, and all the political satire that turns up on the ABC. Husband and wife creative team Wayne Hope and Robyn Butler have now contributed three successful television series to the mix, with The Librarians, Upper Middle Bogan and Very Small Business all providing great entertainment value. In their first big screen venture, Now Add Honey, they attempt the leap to commercial cinema, but unfortunately they don't quite hit the target.
Robyn Butler stars as Caroline Morgan, a mother, sister, aunt, and commercial property lawyer living in the suburbs of Melbourne with her husband (Erik Thomson) and two daughters (Philippa Coulthard and Lucinda Armstrong Hall), while also tolerating her baby sister Katie (Lucy Durack) and her fiancé Alex (Hamish Blake) as they plan their wedding. Their lives are thrown into chaos with the arrival of Caroline's sister Beth (Portia De Rossi) and her teenage daughter Holly (Lucy Fry) from America. Holly is in Australia to release her new sexed-up single, following success in the US as a children's entertainer. When Beth is arrested for illegal importation of painkillers, Holly joins the Morgan household, shattering the existing family dynamics.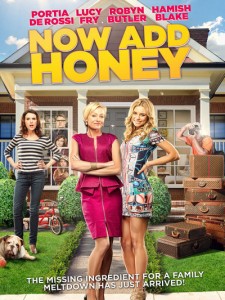 While viewers get to enjoy a few familiar Melburnian settings, one of the downfalls of Now Add Honey is its attempt to include an international slant. The big screen version of Kath & Kim suffered from the same mistake, and it's a shame that filmmakers feel the need to whack in America or Europe to their brand to make it sell as a theatrical release. Holly is a sixteen year old who has lived in the US for six years, so apparently it's necessary for her to have a highly grating, forced American accent, while her manager (Ben Lawson) and members of her posse have similarly terrible fake accents. This, along with the extremely poor road scenes that scream LOW BUDGET, turns the film into something that feels quite amateur.
Butler's script has redeeming qualities. The high proportion of female characters gets a big tick, along with important themes about the sexualisation of teenage girls and the insecurities of middle-aged women. However, the dialogue is never laugh-out loud funny, and this reviewer kept waiting for the film to settle into a groove that never came.
The biggest problem with the film is that the character of Honey is beyond insufferable. Unlikeable characters have the potential to be great (and Butler's head librarian in The Librarians is one example) but Lucy Fry puts in such an exaggerated performance complete with screeching voice tone and volume that every scene that she's in is painful. The best performance of the lot comes from Philippa Coulthard as Caroline's eldest daughter Clare, who is completely natural and acts somewhat as an antidote to the torturous Honey. Robyn Butler is similarly believable, and unafraid to let her less glamourous side show. Portia De Rossi and Lucy Durack, on the other hand, do not feel like real people; they over do it, with Durack's facial expressions more suited to the stage setting that she is known for, rather than the camera. Hamish Blake is unsurprisingly a highlight, but the words coming out of his mouth here aren't as funny as his own material would be.
As a big advocate of local cinema, I so wanted to like this. But in thinking of my friends who avoid Australian cinema because of the cringe-inducing comedic fare served up in the past, this film will not do much to win favour. For now, the best place for local comedy is on the ABC.
Now Add Honey is in cinemas from 5th November through Roadshow Films.