Following his 2012 indie hit Frances Ha, Noah Baumbach reteams with his co-writer and star, Greta Gerwig for Mistress America. Having tackled differences between his own baby boomer generation and Gen Y in his most recent film, While We're Young, Baumbach turns his sights back to the younger set, in all their self-indulgent glory.
There's another – albeit smaller – generational gap in Mistress America, this time between stepsisters-to-be Tracy (Lola Kirke) and Brooke (Gerwig). Tracy is in her first year of college, navigating the beginnings of adulthood, while Brooke embarks on a business venture as she enters her early thirties. Tracy looks to Brooke partly in awe, and also in judgment, choosing her as the subject of her short story admission.
For those who despise films about the middle-class and their first-world problems, Noah Baumbach's films should probably best be avoided. However, he isn't afraid to take the piss out of his characters by showcasing their flaws in exaggerated fashion. At the same time he treats them with a degree of respect; he isn't all about knocking people down just for the hell of it. Brooke is highly self-absorbed, yet her ambitious drive makes her worthy of admiration. The viewer's experience of her mirrors Tracy's, who despite not having achieved the same heights, looks pessimistically and with an unearned feeling of superiority at a character who dares to dream.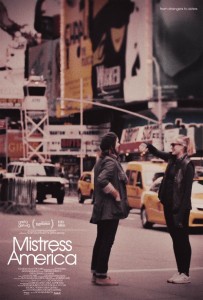 Lola Kirke (seen most recently in Gone Girl) is the kind of casting choice that feels like a warm hug – with a lisp (her own), kinked hair, and that awkwardly confident nerd vibe, she's right at home in a Baumbach piece. As Brooke, Gerwig gives herself most of the best lines, and comparisons with Lena Dunham's Girls are inevitable. A point of difference, however, is that while Dunham's Hannah Horvath can be excruciatingly frank, Brooke seems to be constantly performing in order to cultivate a specific image – she physically gets up on a stage more than once in the film. Gerwig wryly hangs it on these types of individuals, while still giving Brooke some heart.
It would be easy for Baumbach and Gerwig to paint their secondary characters as very one-dimensional in an effort to milk for laughs, but they manage some solid screwball comedy without resorting to such tricks. The supporting players arrive in a steady trickle, culminating in a hilarious shitstorm at a Connecticut mansion involving a random mix of loosely connected individuals who all serve their place. It's so ridiculous that it ends up feeling quite realistic (truth is stranger than fiction, after all). A particular highlight is Heather Lind as Mamie-Claire – first impressions indicate she's nothing but a rich bitch, but while she's far from perfect she shows a glimpse of vulnerability.
Mistress America of course has that Baumbach vibe going on – a soft comforting aesthetic, some good time retro tracks, beautiful people with imperfect hair, the sense that half the characters belong in the nineties, and a pair of antagonising protagonists who portray an unnerving truth about the immaturity of adulthood. Together, Baumbach and Gerwig make a winning team; we can only wish we were as cool as these dorks.
Mistress America is in cinemas from 29th October through 20th Century Fox.