Set in Sydney, Alex & Eve is about the clashing of culture and race in contemporary Australia. Alex is of Greek background and Eve is a Lebanese Muslim. When they meet and start to date, it is pretty clear that they have some very pressing obstacles in the way of their happiness. Based on the stage play of the same name, Alex & Eve is a fair attempt at romantic comedy from Australian director Peter Andrikidis.
Alex (Richard Brancatisano) is a high school teacher, living at home with his parents who are hoping he will meet and marry a 'good Greek girl' any day now. Alex has little interest in marriage, or even in dating, much to the dismay of his overbearing father George (Tony Nikolakopoulos) and his gentle mother Chloe (Zoe Carides). But when Alex is out at a bar with his cheeky Irish buddy Paul (Ryan O'Kane), he meets Eve (Andrea Demetriades). Despite an awkward start, Alex falls for this gorgeous, smart, and successful lawyer, who also lives at home with her parents.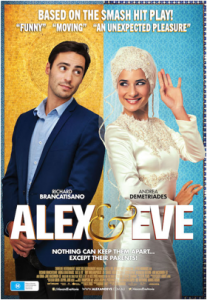 While Alex and Eve are very keen, their parents are not so much. Eve's traditional parents Salwa (Helen Chebatte) and Bassam (Simon Elrahi) are in the process of arranging her marriage to a man she met while visiting family in Lebanon. Salwa has barely recovered from a relationship Eve had with an Australian man, the alleged shame simply too much. When the parents are told of the relationship, Alex's mother is rushed to hospital and the local Lebanese community shuns Eve's parents. Alex and Eve struggle to find a way to make their relationship work, and it seems like their love will be doomed. Eve's mate Claire tries to steer her friend right, but Eve succumbs to pressure to please her family.
There is a noble cause at the heart of Alex & Eve, and it is certainly in touch with the current social climate in Australia. The two sets of parents do a great job in portraying the issues in mixing cultures. Eve's mother and Alex's father are both holding on to their cultural traditions and values, without recognising they are becoming quite intolerant in the process. In an effort to retain their own heritage, they are disparaging of anyone else's. Their respective spouses are far more accepting of the budding relationship between Alex and Eve, but their passiveness leaves them ineffectual.
Despite this worthy message of following one's heart, cultural clash be damned, this film is a little bit weak. The acting is fine but nothing special, and the screenplay is quite flimsy in many places. We know all the conventions of the romantic comedy, and there is nothing wrong with them if they work. This film borrows many of the conventions, an example being Alex spilling beer down the front of Eve's dress prompting their first introduction. Unfortunately the script doesn't quite hit the mark. Director Peter Andrikidis is far too experienced to have produced something so amateurish, although perhaps he is out of his comfort zone with romance rather than crime. The film is fine, but it should be a lot better.
Alex & Eve is in cinemas from 22nd October through Magic Box Entertainment.