Early 18th century playwright George Farquhar apparently didn't quite live long enough to see his play manifest on stage, which is a real shame. Even if it does come from a "wink, wink, nudge, nudge" tradition that might feel rather tame and tedious by today's standards, its element of scandal has brought it through to the 20th century and a now global audience. And the National Theatre's production of The Beaux' Strategem, directed by Simon Godwin, ensures that there is still life in the old play yet.
In this play, two scheming bachelors – the aptly titled Misters Aimwell (Geoffrey Streatfeild) and Archer (Samuel Barnett) – wander into a small rural inn and hatch a plan to con two rich women into marriage. It starts with a few false names, one playing the lord, the other the servant. It then moves on to a 'chance' meeting, a locking of eyes, and a clean plan devolves into a tumbling mess. This is because Lichfield is no ordinary crowd; it also involves a highwayman who is in cahoots with the innkeeper, a lovestruck French count, and a French priest with a slight hint of Irish, and the objects of their affection, Mrs Sullen (Susannah Fielding) and her sister-in-law Dorinda (Pippa Bennett-Warner), who have designs and ambitions of their own.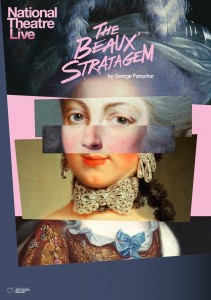 In a play of facades and deception, these characters constantly have one eye on the crowd, and there's a great deal of verbal sparring, teasing seduction, and helpful exposition that propels this farce at a rapid rate. The wordplay is often brilliant, while at other times the wistful narration on the nature of love can border on tedium. But you've got to expect this lyrical melodrama in the eighteenth century.
The two and a half hours fly by remarkably quickly, and for this we are indebted to excellent lead performances from Geoffrey Streatfeild and Susannah Fielding as Aimwell and Mrs Sullen – particularly the latter, whose thoughtful musings and interesting approach to negotiating marital politics make her the most interesting personality on stage. And despite everyone being a bastard in some respect, you really do have an ideal resolution in mind and they're all charming enough for you to hope they get there.
And while there's a "nudge, nudge" aspect, there's enough explicit motive on stage to create the carnal atmosphere that tranquil period tea-sipping ceremonies tend to lack. Here, it's ale, sherry, and a bit of fondling behind closed doors for good measure. The whole cast feeds into this atmosphere of suggestive fun, with recurring characters such as Scrub the Butler (Pearce Quigley) and the Rev Foigard (Jamie Beamish) always good quality.
Importantly, it also looks fantastic, flawlessly handling scene transitions. The double storey structure, which acts alternately as mansion and inn, facilitates a movement-heavy script that a single floor would have rendered stagnant. There are plenty of doors to escape through, which is handy since there's a great deal of hiding going on.
A sharp, pacy, and entertaining romp.
The Beaux' Strategem is in selected cinemas from 10th October through Sharmill Films.