Any woman who has ever experienced a troubled relationship with her best friend is likely to identify with Catherine Hardwicke's Miss You Already. Hardwicke is best known for her adolescent-driven films; she has previously portrayed the horrors of becoming a teenager in Thirteen, and the horrors of falling in love with a stalkey, sparkly vampire in Twilight. In her latest film, her focus shifts to adult relationships.
Best friends since childhood, Milly (Toni Collette) and Jess (Drew Barrymore) have always shared everything. Now in their early forties, Milly has settled down with her rocker husband Kit (Dominic Cooper) and their two children, while Jess and her husband Jago (Paddy Considine) try for a baby. When Milly is diagnosed with breast cancer, her life is turned upside down, and as she loses control her friendship with Jess is tested.
Miss You Already is a good example of a cancer film done right. Unlike the recent Me and Earl and the Dying Girl, it is a genuine tear-jerker, mainly because it does away with quirk or sentimentality, and delivers a warts and all portrayal of the cruel beast that is cancer. There is particular emphasis on the issue of body image and loss of sexual confidence following a mastectomy, and Collette actually looks sick, and not just like a beautiful model with a shaved head.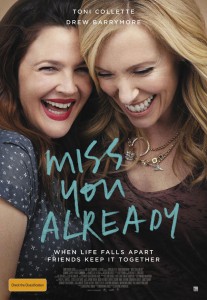 What is especially unique about this film is that the cancer patient is no saint. Milly is a selfish and highly flawed woman who treats both her best friend and her husband like shit at times. She's a lot of fun and you can safely assume she'll make amends by film's end, but there's no denying she can be a real bitch and a half. Of course much of the blame can be placed on the cancer that causes her existential crisis in the first place. But it's also clear she uses her illness to manipulate Jess into tending to her every beck and call.
Miss You Already is likely to resonate with many women, and not just those who have been touched by cancer. The turbulent relationship between Milly and Jess will be familiar to viewers who have dropped everything for a friend, only to say to themselves "nup, you know what, I'm done", before being sucked back into the revolving orbit of I love yous and disappointments. Milly's husband takes a back seat in Morwenna Banks' story; it's clear who the real love of her life is.
Drew Barrymore is absolutely gorgeous as Jess. With an infectious smile, she infuses the role with a sweetness without being overly saccharine, and if you haven't already fallen in love with her, you probably will here. (Maybe that's because here she's up there with the best, and not Adam Sandler.) Toni Collette is phenomenal as always, proving she can do it all: rock chick, selfish bitch, cancer patient, all in the one film. Though that's perhaps not surprising given her star turn as multiple personalities in United States of Tara. Paddy Considine and Dominic Cooper contribute admirable turns as the women's loving husbands, and Jacqueline Bisset gives a particularly enjoyable performance as Milly's mother Miranda. While the focus is certainly on the two girlfriends, their relationships with these supporting characters also manage to be well-developed.
With the exception of some annoying jittery close ups that seemed to be an attempt to convey Milly's fragmented sense of self, it is difficult to fault Catherine Hardwick's latest addition to her resume. Miss You Already will make you laugh, cry, and ponder the nature of friendship. Bring tissues.
Miss You Already is in cinemas from 8th October through Entertainment One.