Learning to Drive, despite marketing to the contrary, is a light drama, a story which explores the lives of Wendy Shields (Patricia Clarkson) as she is taught to drive a car by Darwan Singh Tur (Sir Ben Kingsley). As the story progresses, themes of loss, friendship and courage are gently explored, as we learn more about their very different lives.
Wendy is going through a divorce with husband Ted (Jake Weber). She decides after much deliberation to take driving lessons so she can visit her daughter who is working on a farm in Vermont. As a native New Yorker, she's never had cause to learn, what with the prevalent public transport options. But her husband did all the driving when they were together, so she's been backed into a corner.
Enter Darwan Singh Tur, a refugee from Bangladesh who was persecuted by government officials and has permanent residency in the United States. He meets the unhappy couple one night when Ted hails his cab. The next day, while travelling to meet a driving student, he returns some paperwork to Wendy who takes his card.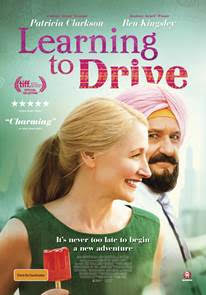 Wendy's marriage breakdown is the catalyst which pushes her forwards and forms the backbone of the narrative, and her lack of confidence and at times defeatist attitude is slowly but surely overcome. She makes the choice to change and become a different person, for herself, not for others. It takes time though, and she's at times so defeatist it's difficult to have any empathy for her.
Darwan becomes the constant in her life, and with varying levels of success helps her overcome her confidence issues. He has his own life too, and there's an immigration sub-plot which reminds one of Dirty Pretty Things, with the daily struggle of working long hours for pennies, the constant threat of abuse and official harassment. It's nowhere near as bleak, but it has its moments.
But where Learning to Drive stands apart is in its choice of actors. For some, Sir Ben Kinglsey is easily remembered as the unbelievably menancing Don Logan in Sexy Beast and is the British actor who is currently the face of Jaguar's "Good to Be Bad" campaign (together with Tom Hiddleston and Mark Strong). So the choice of Kingsley as Darwan seems like whitewashing, until you read that his paternal side is Indian in origin. This makes Learning to Drive practically unique in Hollywood as having a leading cast that's genuinely ethnically diverse.
The direction too from Isabel Coixet is simple and workman-like, though there's a sense it could have done with some more energetic direction in places, perhaps breaking the long cuts up a little to better push the drama. On the other hand, the simplicity of many scenes, particularly in the temple, do give a sense of calm.
It's also interesting to note that the story by Sarah Kernochan is based upon a New Yorker article by Katha Pollitt, and it ticks the racism and middle-class outrage boxes relatively well, while maintaining a sense of calm in Darwan's world.
On the other hand, the marketing leaves a lot to be desired. The trailer has scenes plucked from their context which paint the film as a humorous clash of worlds: the Sikh driving instructor meeting the neurotic American woman. But in context, they are anything but. For example, Darwan's comment about road rage is cut together in the trailer for comedic effect and closely follows an abusive tirade from Wendy. In the film however, the scene becomes a gentle warning about the perils of losing control behind the wheel, which builds upon his careful instruction throughout the movie. It's certainly not the first film where marketers have taken liberties and it won't be the last. What it does though is leave one with a sour taste because, frankly, we've been lied to.
Overall, Learning to Drive is at times a voyeuristic look into the lives of two very different people, and one of those films which seems to stick with you after you've left the theatre.
Learning to Drive is in cinemas from 8th October through Madman Films.