If initially a title that includes the words 'Diary' and 'Teenage Girl' puts you off, don't be dissuaded. Based on the cult novel by Phoebe Gloeckner, the first film by actor-cum-writer/director Marielle Heller is a magnificent film which can consider itself the place where Bel Powley gave her star making performance, and might prove to be a future classic in some circles.
Set in 1970s San Francisco in the heady days of platform shoes and cocaine, 17 year old Minnie (Bel Powley) begins the film by stating "I had sex today… Holy shit". From then on she dives into all the previously unknown or taboo subjects that swam around her imagination and engages in all the sex, drugs and rock 'n' roll that the sexual revolution can throw at her. She soon enters into an affair with Monroe (Alexander Skarsgård) which complicates her already swirling life on account of him being double her age and her mother's boyfriend.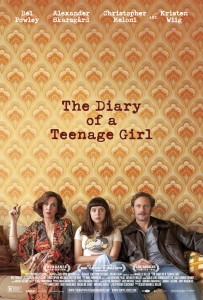 It's difficult to think of a more refreshing and honest portrayal of teenage sexuality than the one created here. An apt description might be that it's the hard drinking, sexually adventurous big sister of Juno but thankfully without any of the pretentious hipster bullshit. Through a haze of cigarette smoke, sexual adventures and magical realism, brought to life by an amazing central performance, Heller's film has all the listless energy and style of a great beat novel combined with all the warm nostalgia of an evening spent drinking and reminiscing with friends. It's a morally complex, hilarious, and haunting portrayal of that strange time in life when you finally experience all the things you day-dreamed of as a child and jump into previously uncharted territory.
Bel Powley, previously seen this year as Princess Margaret in A Royal Night Out is a force of nature. It would have taken guts to take on this role as it calls for her to bare all and let us into the daunting world of a sexually active girl's mind, but she throws herself into it with gusto and gives what is quite possibly the best female performance of the year. Powley has four films due out in 2016 and it will be fascinating to see where her career goes from here. She has all the potential to be one of the best young actresses around and to take the film community by storm – in the words of last Sunday's The Age piece: a sort of "Bel epoch", if you like.
Powley isn't the only great performance; Heller has managed to get the absolute best out of the entire cast. Skarsgård is amazing as the hopeless Monroe and Kristen Wiig plays against type to show she has substantial talent when she's not trying to be funny. Even the smaller roles such as Christopher Meloni as a psychotherapist and newcomer Madeleine Waters as Minnie's promiscuous friend are fleshed out and memorable.
Best of all, even with all the explicit sex, loose morals, and the cocktails of drugs each character takes (including one of the best scenes of the year where two characters take acid) Heller presents the whole thing with style and without judgement. This is simply how the lives of these characters evolve and at times it seems painfully real. Minnie's struggles are some of the most fleshed out and realistic you're likely to see put to a cinema screen in 2015 (Disclaimer: this reviewer has no experience of being a teenage girl and is simply taking an educated guess).
There are so many memorable moments that stick with you – images and sequences which are hopefully destined to become iconic. The Diary of a Teenage Girl is a rare cinematic gem that isn't to be missed.
The Diary of A Teenage Girl is in cinemas from 24th September through Sony.