With a clickbaity title and glowing endorsements from Greenpeace, you could be excused for thinking Jerry Rothwell's How to Change the World is an expensive public relations exercise for one of the world's largest NGOs. There is no doubt that Greenpeace will attract new supporters and volunteers through the release of this film, however it wouldn't be fair to reduce the film to propaganda. Indeed, How to Change the World is not so much a story about Greenpeace, or even the ecological movement of the 1970s, but about three ambitious men: Robert "Bob" Hunter, Patrick Moore, and Paul Watson.
Rothwell's film documents this trio, among an assembly of hippies, in the early years of Greenpeace. Their first mission against an American nuclear experiment is a failure, but incidental media attention helps transform this gang into a movement. Not long afterwards, these reckless rebels are clashing with Russian whale boats and Canadian seal hunters. Through present-day interviews with the leading players, however, Rothwell makes it clear that internal political clashes were just as impactful.
Greenpeace founder Hunter is both a fascinating protagonist and narrator, whose eloquent phrases (picked from his memoirs) give the film a poetic touch. A steady voice delivers his prose in a rhythmic manner, a nostalgic accompaniment to grainy archival shots of Greenpeace's early days.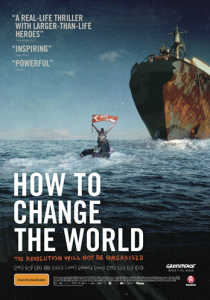 The tangents regarding Moore and Watson convey a powerful narrative about ego, disunity, and how an organisation is only as strong as its leader. The bickering portrayed in their stories doesn't paint Greenpeace's history in the brightest of lights, however this only serves to enhance the film's integrity.
Given that so much of the story revolves around Hunter, Moore, and Wilson, Rothwell could well have created a biographical film with actors as opposed to a documentary. The raw footage from the '70s makes this unnecessary; both the quality of content and the size of the collection ensures he doesn't need to re-use clips or turn his doco into a glorified slideshow. Indeed, there are moments when the visuals match so closely with the commentary that you're left to wonder whether production for this documentary intentionally began 45 years ago.
As we learn, the reason this correlation is so strong is because of Hunter's unshakable belief in the power of the media to tell stories. It's bittersweet then that this tribute comes in the form of a feature film, albeit a decade after his death.
While Rothwell's interviews give us access to the post-Greenpeace story for many of Greenpeace's early champions, Hunter's death in 2005 means at least one story is missing a happy ending. In his absence, interviews with Hunter's wife and activist daughter speak profoundly about the changemaker's ongoing legacy.
How to Change the World opens in limited Australian cinemas on 17 September through Madman Entertainment.