Set in Eagles Nest in Western Australia, Kill Me Three Times makes wonderful use of a gorgeous landscape. The luminous colours are the greatest feature of the film, thanks mostly to the great setting and the experienced cinematography of Geoffrey Simpson. Beyond that, this black comedy/ thriller/ crime spree hybrid film is quite disappointing.
Charlie Wolfe (Simon Pegg) is a hitman, hired to kill a woman named Alice (Alice Braga). Alice's husband Jack (Callan Mulvey) wants her dead, but so do her dentist Nathan (Sullivan Stapleton) and his assistant Lucy (Teresa Palmer). Alice is about to run away with her lover, mechanic and garage owner Dylan (Luke Hemsworth). Meanwhile, the corrupt local policeman Bruce (Bryan Brown) seems to be blackmailing them all. In a convoluted black comedy/ thriller, there are more manoeuvres than a game of twister.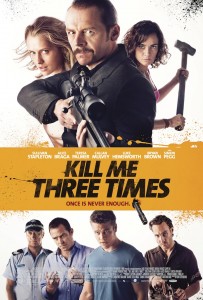 There are quite a few issues with the script, in part that much of it simply doesn't make sense. It is hard to follow the earlier scenes, although it does become clearer as the film wears on. Unfortunately there are just too many twists, and too many of them are simply unbelievable. As the title suggests, the film attempts to tell the same story in three different versions, each chapter in a different perspective or time frame. There seems to be an aim here to replicate the film style of directors such as Quentin Tarantino, Robert Rodriguez and Guy Ritchie. This film is not a patch on any of the films from these directors, and that's really disappointing. It could have been better – funnier and actually quite clever.
Nothing about the film is particularly original, but that should not necessarily be a criticism. Plenty of films are not very original, but that doesn't make them bad. Genre film making is not a crime, in fact it is something we should see more of; the formulas work. Not all films need to be great works of art, but they should hold some value at an entertainment level. That's what a genre film does. Love Actually gives us exactly what we expect, but with a bit of panache. Die Hard (wherever we are up to) knows what the punter wants, and gives it in spades. There is nothing to be ashamed about making a decent genre film. Kill Me Three Times should be a decent genre piece, but the film falls short.
Director Kriv Stenders delivered Red Dog a few years back, proving he has potential. His earliest feature The Illustrated Family Doctor is a little strange, but has a small following. Kill Me Three Times should be better than it is; it seems the film should work more with the conventions of the genre it aspires to rather than trying to be something that it's not.
Kill Me Three Times is available on DVD and Blu-ray through Entertainment One.