The young adult science fiction/dystopian future thing is like, so hot right now, but the overabundance of films in this genre in recent years has made it difficult for many series to stand out. With the best of the bunch, The Hunger Games trilogy, coming to an end in a matter of months, there's no short supply of franchises to take its place. The Divergent and Maze Runner trilogies both offer up their second slice of pie this year, with one book (read: two films, obviously) still to go in the years ahead. We'll also get the first instalment of The 5th Wave next year, and who knows what's going to happen with The Giver, which was critically panned last year, even though Meryl Streep and Taylor Swift were both in it (read: it must have been pretty damn bad considering that casting perfection).
It can often seem like there's too much of it, but last year's first instalment of The Maze Runner was a welcome addition. Because MAZE = MYSTERY. Described by director Wes Ball as "Lord of the Flies meets Lost" it offered up an interesting look at how teens band together in trying circumstances, and what happens when you add giant spider things and complicated mazes to the mix. The first movie ended with the surviving 'Gladers' escaping the maze after realising they were part of an experiment by the W.C.K.D. organisation. They were informed that the world had been hit with a massive solar flare, followed by a global pandemic, and that they were immune to the virus. Then the W.C.K.D. crew were supposedly killed and the Gladers were saved, except secretly W.C.K.D. was still doing some wicked shit.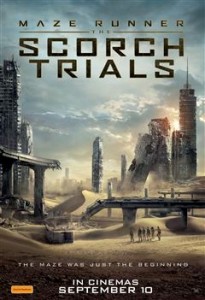 Maze Runner: The Scorch Trials picks up where its predecessor left off. Teenagers from various mazes the world over (the world meaning: just America obviously) have been saved and finally get to have hot showers and be locked into rooms with bunk beds. It's just like prison! And they're soooo happy because they were starting to smell and this is quite frankly Awesometown in comparison. But then our protagonist/dreamboat Thomas (Dylan O'Brien) does some investigating and OMG YOU GUYS, the people locking them in their rooms might actually be THE BAD GUYS! Some exciting escape scenes follow and then they end up in the desert (read: what the whole world/America is like now) and then THERE ARE ZOMBIES. But not. But they're pretty much the same thing. And it's ridiculously unrealistic that at no point does anyone yell out "OH MY GOD ZOMBIES ARE REAL" because they are CLEARLY ZOMBIES. The action scenes are interspliced with some deep talks about dead relatives and plans that consist of nothing other than "I'm going to do SOMETHING to fix this and I'm sure our team of six will beat the overarching powerful corporation".
Unfortunately The Scorch Trials isn't quite as strong as the first film, though that often seems to be the case with these sorts of trilogies. They start off with an intriguing concept (having to battle other teenagers to the death in The Hunger Games, choosing a faction based on your personality type in the Divergent series, and adapting to a Lord of the Flies-type scenario in The Maze Runner) before becoming increasingly political in the second and third instalments.  For some viewers, this may be where it gets interesting, but it's also where they all start to blend in with each other because every single one involves an inevitable rebellion.
Casting the need to make comparisons aside, however, there is much to value in The Scorch Trials. It is consistently entertaining, rolling along at breakneck speed with exciting action sequences and regular scares. The team are mostly easy to root for, with Dylan O'Brien continuing his heroics/hot pensive stares, while Thomas Brodie-Sangster and Ki Hong Lee give us pangs of longing to rewatch Love Actually/Unbreakable Kimmy Schmidt. Plus Gus from Breaking Bad (Giancarlo Esposito) shows up and isn't as much of a psychopath for a change which is nice. The half-hearted romance between Thomas and Teresa (Kaya Scodelario) isn't particularly affecting, nor is Scodelario overly likeable (probably because she plays such horrible characters all the time), but it would appear their troubled relationship is destined for further development in the next instalment.
Considering that the source material (by James Dashner) wasn't particularly well written, and that the film's screenwriter, T.S. Nowlin, has never written any scripts outside of The Maze Runner franchise, the screenplay isn't at all bad. However it does feel somewhat like the requisite filler movie between the initial intriguing premise and the inevitable revolution. It does enough to sustain interest in the franchise, but one can only hope the finale goes out with a bigger bang. If they really wanted to shock us, they would make it just the one movie.
Maze Runner: The Scorch Trials is in cinemas from 10th September through 20th Century Fox.