Director Max Joseph delivers easy viewing with his first feature, We Are Your Friends. Cole Carter (Zac Efron) is an aspiring DJ, trying to make it in the Hollywood club circuit. Cole and his three mates – Ollie, Squirrel and Dustin – are trying to make it big enough to break out of their life in the San Fernando Valley, and into a bigger scene. Unfortunately this is harder than it seems, and the crew is pretty naïve in their expectations. But, despite this, Cole befriends an older, more experienced DJ in James Reed (Wes Bentley) and James' girlfriend/PA Sophie (Emily Ratajkowski). Cole is instantly smitten with Sophie, and although James is jaded and damaged, Cole accepts him as a mentor. As Cole starts to spend more time with James and Sophie, his time for his old crew and their get-rich-quick schemes wanes.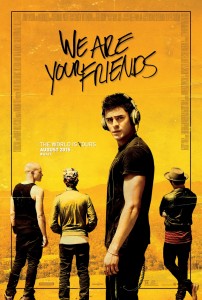 This is the first feature film from Max Joseph, who audiences might be familiar with as the co-host and cameraman of the series Catfish. Joseph's inexperience is evident in the overly simplistic story development and an enthusiasm for too many gimmicks: narration and voiceover, animated drug highs, hand held camera for outdoor action. Some of this is effective, but much of this could have been left aside, allowing a trust in viewers to follow the story for themselves. But, Joseph shows a lot of promise. We Are Your Friends is better than it looks at first glance. The plot is pretty simple, a very broad and obvious development for story and characters. But, that doesn't matter so much. The film starts off in a pretty cheesy style, but as it progresses the whole thing improves quite noticeably. By the end of the film, it is pretty easy to accept the journey.
What is principally interesting about this film is that it is one of very few films about DJs, electronic music, and the culture around it. Movies about rock bands, singers, and classical musicians are plentiful, whether based on true events or completely fictional. There are only a handful of films about the electronic scene and its hero, the DJ. Granted, capturing this world might be problematic visually, but there are some interesting stories to tell here. As with other music movements, there is a human response. Aside from a few documentaries – Scratch (2001), Midnight in Melbourne (2002) – there are few feature length films specifically about electronic music. Recent French film Eden (2014) is more specifically about the DJ experience, but along with We Are Your Friends, this type of film is quite uncommon. Joseph and his co-writer Meaghan Oppenheimer are addressing a bit of a void in the Hollywood catalogue here.
Of particular note is the sound – as should always be the case in music focused films. The sound quality starts out fine, nothing special. But neither is the quality of music Cole is listening to or producing. As the film develops, the sound improves. James tells Cole that he doesn't listen, and Cole doesn't. If he wants a life based on sound, he should. As Cole starts to listen and starts to make better music, the sound (and soundtrack) quality of the film improves to a really impressive point.
We Are Your Friends is a bit shallow, but not every film needs to be serious. Director Max Joseph proves he has potential, not just in terms of writing and style but in getting good performances. There are some honest artistic values at the core of the film.
We Are Your Friends is in cinemas from 27th August through StudioCanal.