It almost goes without saying that Meryl Streep is amongst the greatest actors ever. She can seemingly do no wrong. So the (rhetorical) question is not whether she's great in Ricki and the Flash, but if the film around her as a whole manages to reach her lofty standards. Director Jonathan Demme (whose previous film Rachel Getting Married covered similar territory around awkward family reunions) and screenwriter Diablo Cody (of Juno fame) certainly seem like a potentially unique combination. Unfortunately, however, their collaboration yields lacklustre results. The film's direction seems to lack any distinct style, and the screenplay feels too familiar in its plot and dialogue. In the end, the film descends into fairly predictable territory, and what remains is another welcome (but by no means surprising) showcase for Streep.
Ricki (Streep) is the lead singer of rock cover band 'Ricki and the Flash', and in a relationship of sorts with guitarist Greg (Rick Springfield). Decades ago she chose to follow her musical dreams, but in doing so left behind her ex-husband Pete (Kevin Kline) to raise their three children, including Julie (Mamie Gummer, Streep's real life daughter) and soon-to-be-married Joshua (Sebastian Stan), with second wife Maureen (Audra McDonald). However, after Julie's husband leaves her and she has a breakdown, Pete unexpectedly contacts Ricki and convinces her to come back to Indiana. After two decades of being out of the picture there's bound to be tension and awkwardness, and in attempting to rebuild these relationships Ricki is forced to confront and work out where, if anywhere, she fits into the family she left behind.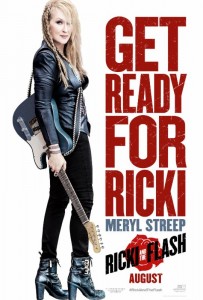 The performances are generally solid, with Streep's daughter Gummer offering a raw, vulnerable performance and McDonald holding her own as the patient and strong-willed woman who raised Ricki's children as her own. But, naturally, it's Streep who shines. She does all her own singing (including songs by Lady Gaga, U2, and Tom Petty, but, disappointingly, not Springfield's own 'Jessie's Girl'), and she brings a relaxed, joyous ease to her stage performances. However, she is also given ample opportunity to show her range in conveying Ricki's free-spiritedness, weariness, and palpable ambivalence in reconnecting with her family.
However, her fantastic performance alone is not enough to elevate the film beyond its fairly unsurprising plot. Despite having Demme at the helm, who proved so adept at exploring visceral familial tension in Rachel Getting Married, and Cody behind the script, whose quirky, endearing sensibilities are on full display in Juno, the film comes across as too light and too conventional to be particularly memorable. Instead, it covers material that feels too well-worn, even obligatory, in its depiction of family dysfunction. Ricki and the Flash provides another great addition to Meryl Streep's catalogue of indelible performances, but it does not end up being particularly notable overall.
Ricki and the Flash is in Australian cinemas from 27th August through Sony.