In documentary film Best of Enemies, co-directors and writers Robert Gordon and Morgan Neville take a look at a critical historical juncture in how American politics is reported on television: the 1968 Presidential Election. The film focusses on the clash of two stubborn media personalities as they discuss the presidential primaries, whilst also looking at the more long-term impacts of their fiery encounters on their lives. More broadly though, it is a fascinating insight into the birth of modern American political punditry, when straightforward coverage became personality-infused commentary. Intelligent, witty and insightful, the documentary is absorbing and highly entertaining, whilst also serving as a reminder of the ways in which policy and politics are often inseparable.
In 1968, ABC was lagging way behind in the television ratings. In an attempt to gain a larger share of the audience, they introduced a new format in which two commentators from opposite sides of the political spectrum would discuss the ongoing presidential primaries: William F. Buckley, a prominent figure in galvanizing the conservative movement, and Gore Vidal, a novelist and intellectual known for his progressive views on sexuality. What actually unfolded was less an enlightened discussion of policy and more of an outlet for them to publically flex their intellectual egos and sling insults at each other. The film shows footage of some of their ten discussions throughout the Republican and Democratic primaries, whilst also moving back and forth in time to provide insights into their backgrounds and the ramifications thereafter. John Lithgow and Kelsey Grammer also read excerpts from Vidal and Buckley, respectively.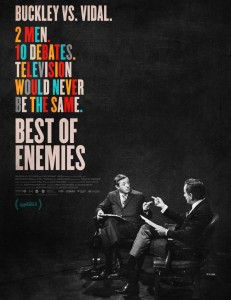 The film is crisply edited and briskly paced, moving seamlessly between footage of their television debates, asides providing insights into their lives, and commentary from contemporary experts. Buckley and Vidal make for highly compelling viewing, and it's no wonder that their television discussions were such a draw. They were both intent on embarrassing the other whilst staking and affirming their own intellectual and moral high ground, and so their commentary on the primaries largely descended into barbs traded with thinly veiled contempt. These exchanges, often bitter, condescending and combative, would have long-lasting impacts on their lives.
More broadly, their popularity lead other television stations to adopt similar approaches to political coverage, and this style of political dialogue – informal, comical, frank – has become the contemporary norm. In retrospect, ABCs 1968 coverage was able to actively shape the media landscape of political punditry thereafter, and Best of Enemies is a compelling look into the two fascinating personalities which started it all off.
Best of Enemies is in Australian cinemas from 27th August through Hi Gloss Entertainment.