Christian Petzold has created a moving and intriguing tale of betrayal and reclaimed identity in Phoenix, a fascinating noir mystery that should prove one of MIFF 2015's strongest international entries.
Adapted from a novel by Hubert Monteilhet, we find ourselves in a devastated post-WWII Berlin as Nelly (Nina Hoss), a Holocaust survivor, makes her return. Her face severely burned and requiring reconstruction, Nelly's old life no longer exists. Her house was bombed and, to begin again, she must do so by another name, a new façade.
However, upon returning to her old town, Nelly suspects that her rescuer and guardian Lene (Nina Kunzendorf) is shielding her from certain facts leading up to her current predicament. Facts concerning Nelly's still healthy husband, Johnny (Ronald Zehrfeld), who avoided capture and is now working at a club called Phoenix.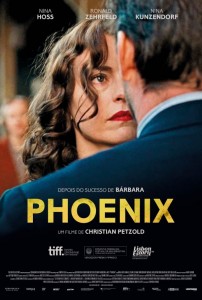 Nina Hoss's hollowed embodiment of Nelly makes for magnetic viewing. As she obsessively seeks to reclaim a semblance of her former self, she begins to unveil the character of Johnny—or rather lets him unveil his own motives. And in committing herself to an increasingly surreal pursuit of identity, her escalating challenges allow Petzold to fashion a careful, eerie suspense worthy of Hitchcock.
On the surface, this is a simple story, but the dense characterisations and teetering post-war setting make Nelly and Johnny's relationship all the more intriguing. What plays out is a battle between logic and emotion, and sometimes the realisations that spring from these conflicts can be the most heartbreaking.
Phoenix screened at the 2015 Melbourne International Film Festival.
This is one of two reviews of Phoenix. You can read the other one here.