Irrational Man is the latest film from Woody Allen, and it has all the hallmarks of the best of the writer/director. Autumnal tones, jazz soundtrack and a luminous leading lady; as the opening credits role, there is the same familiar font, the recognisable names of Allen's longstanding collaborators. And there is a sense of reassurance that comes with watching a Woody Allen film.
The setting is a small liberal arts college in Rhode Island, where a somewhat controversial philosophy professor has been newly appointed to teach for the summer. Abe Lucas (Joaquin Phoenix) is well published, a renowned drinker, and the source of a great many myths surrounding his personal history.  Arriving at the Braylin college, he is suffering writers block and an existential crisis of sorts. Frustrated, bored and impotent, Abe is reluctant to settle into this new role.
Student Jill Pollard (Emma Stone) eagerly awaits the arrival of the new professor, whom she has admired for some time. As she gets to know Abe personally she quickly becomes enamoured with him and their relationship develops, much to the chagrin of her boyfriend Roy (Jamie Blackley). Through Jill, Abe discovers a sense of purpose after they overhear the conversation of a desperate woman. Abe wonders if he can spare this woman some grief by executing the perfect murder of the judge in her court case, a service to her and the larger community, and a source of purpose and meaning to Abe.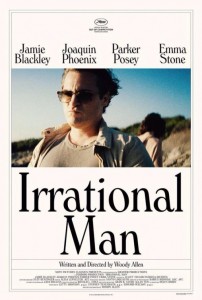 There are two ways to evaluate Irrational Man; as a film, or as a Woody Allen film. As a Woody Allen film, Irrational Man is far from the writer/director's best. It is certainly competent and enjoyable, but it is hard to conceive of this film making it to any reviewer's best list. On the other hand, it stands out from the crowd at the box office at present. Having seen Aloha earlier this year, also starring Stone, Irrational Man is by far a better film in a similar vein of warm, romantic and funny. Allen is a great writer, and this film is an exercise in philosophical musings. As Abe contemplates the prospect of murdering the judge, he is completely enlivened.
There is a calmness to the performances which is not usually found in Allen's films; the pace is less frantic or manic than the director's earlier works. Credit here goes to Phoenix and Stone who are great in their roles, the film rounded out with great support cast, Parker Posey in particular. Phoenix is great in the role usually performed by Allen himself. Emma Stone is now firmly cemented as a personal favourite; she is warm and wonderful in this role, well suited to the film and style. The cinematography is lovely, the beautiful imagery and colours captured perfectly by Darius Khondji.
Irrational Man is in cinemas from 20th August through Entertainment One.