One of the most talked about films to come out of this year's Sundance Film Festival was Dope, which after only a single screening was sought after by no less than six production companies. Written and directed by Rick Famuyiwa, and with a star making performance by newcomer Shameik Moore, Dope is probably going to go down as one of the best films of 2015.
Inspired in part by his own experience growing up as a geek in suburban L.A, the plot centres on Malcolm (Moore) and his friends/band mates/fellow geeks, Diggy (Kiersey Clemons) and Jib (Tony Revolori, known mostly as Zero from The Grand Budapest Hotel) getting in over their heads as a chance invite to a night club leaves them with a treasure trove of a ruthless gangster's drugs. Knowing less about what happens is best; from then on the plot evolves in a way that can only be described as 'Superbad-esque', with the trio of characters getting into increasingly absurd and hilarious situations that interact and compliment the scenes that went before, combining into a well-structured whole that never seems to have a dull moment or lose focus.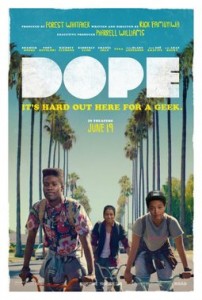 Producers Nina Young Bongiovi and Forest Whitaker (who also provides the voice-over) previously made Fruitvale Station, which would provide an interesting companion piece. Behind the quirky and often hilarious exterior there are some well-articulated points about race-relations in the USA, a topic which seems to be rearing its ugly head on the news cycle more and more. Things like the gentrification of Los Angeles and why white people shouldn't say the N-word, it never sells out the overall message for a joke which is what makes the comedy work so well, and it's a compliment to the quality of the writing that one of the genuinely funny comedies of the year is essentially about three teenagers selling drugs.
This is everything you could want out of a Gen-Y comedy/drama – a funny, exciting and thoroughly worthwhile romp that goes beyond simply spouting pop culture references. There's intelligence but also a simple entertainment value here that elevates it to something remarkable. Dope is the most fun you'll have in a cinema in 2015.
Dope opens in limited release on 20th August through Sony Pictures.